Hanfu clothing is a kind of traditional Chinese outfit that people have worn in China for thousands of years. China hanfu is known for its simplicity, elegance, and timelessness; these days, fashion hanfu types are very popular with the young generation. And there are lots of different types of hanfu clothing that you can wear, but you need to choose one favorite Chinese hanfu type that fits your lifestyle. Today, we are going to talk about how to choose the best traditional China hanfu costume for you.
Choosing the right clothing can be difficult. Not only do you have to choose a style that suits your body type, but you have to find the best fit for your personality as well. This is especially true when it comes to Choosing your first ancient Chinese hanfu garments. There are many different hanfu clothing types to choose from, but which ones will be the best fit for you? The following is a list of the coolest, most classic, and most fashionable hanfu styles perfect for any occasion.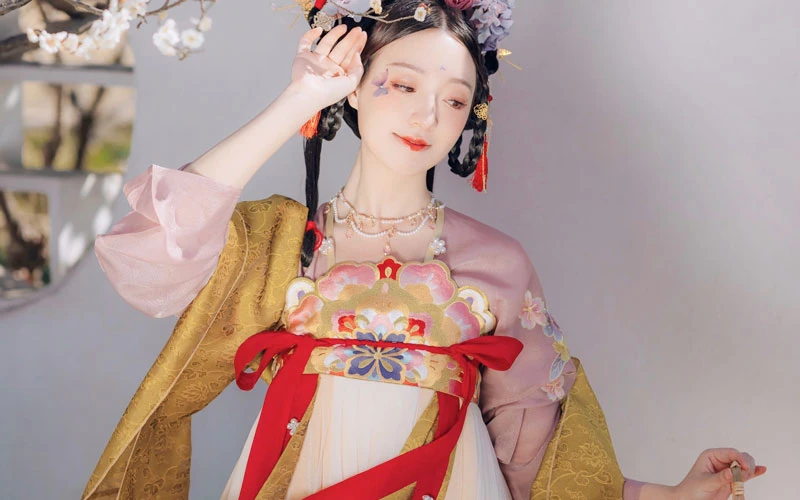 Top 8 Popular Hanfu Type and Hanfu Category
Hanfu is not just traditional Chinese clothing that has been adapted and blended with modern trends to create a unique and fashionable style. If you're looking for the best hanfu to improve your wardrobe, look good, and feel comfortable. But don't know where to start, this post will help you learn how to choose the right Hanfu clothing type for you.
List of the best Hanfu Types:
You'll see some that are perfect for the spring and summer, but others that are more appropriate for the fall and winter. And When it comes to choosing the exact hanfu types, there are a lot of different options and styles to choose from. Nobody wants to end up wearing a shirt that is too hot or too tight.
Before starting, to choose the best hanfu clothes for your body type, you need to know what your body type is. This simple process can be done with just a few quick measurements. Once you know your body type, you can then choose clothes that are most flattering to your body. For example, if you're tall, you will want to wear hanfu pants with a higher rise. If you're short, you will want to wear a mini hanfu skirt with a lower height. You can also use a measuring tape to determine what size hanfu you should be wearing.
I have chosen my favorites and put them in this post. It's not easy to choose a perfect hanfu, but once you do, you will have a stylish and comfortable wardrobe.
1. Hanfu Shirt: Ru shan, Banbi, Tanling
There are lots of different types of hanfu shirts out there, but one of the most popular is the Ru shan (Ru means a shirt, the top part of Ruqun). This is probably the most classic of all hanfu shirts; whether you like to wear it with or without a hanfu dress, it's always stylish. You can wear this hanfu shirt in the spring and summer seasons.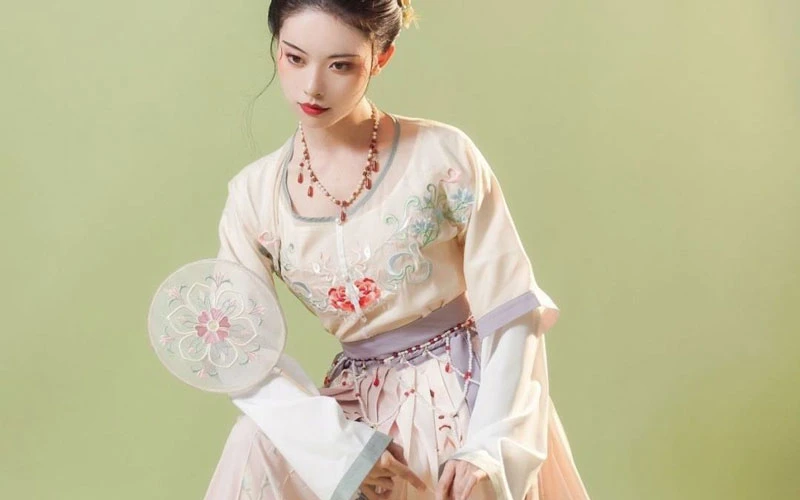 Hanfu Ru shan (shan means a top shirt) is a very popular fashion item for both men and women. Traditional hanfu shirts are easy to make and easy to wear. They can be worn as a wardrobe staple when paired with hanfu skirts, shorts, or even hanfu trousers. These retro hanfu shirts are perfect to wear when going out or working in the office. Wear a hanfu blouse casually or with a more formal hanfu jacket.
Banbi is one of my favorite types of hanfu T-shirts. These vintage banbi hanfu tees are great for work or weekend style. Banbi shirts are always stylish and very comfortable. I love that they have more different fashion prints for the summer season. Banbi shirts are also a perfect solution for the office, weekend, and vacation. You can wear a classic white hanfu tee for casual occasions, or pair it with a printed shirt for a more formal look.
Tanling looks like a cute crop top; they are so versatile that you can mix and match them with anything from a modern skirt to songku pants. You can also team them up with a printed qixiong dress for a simple and chic look.
2. Hanfu Jacket: Daxiu shan, Chang shan, Yuanling shan
If you are a fan of Chinese fantasy wuxia drama, you may have been wondering how to choose the right wuxia hanfu jacket for you. The first thing you need to know is that there are different types of hanfu jackets that you can choose from.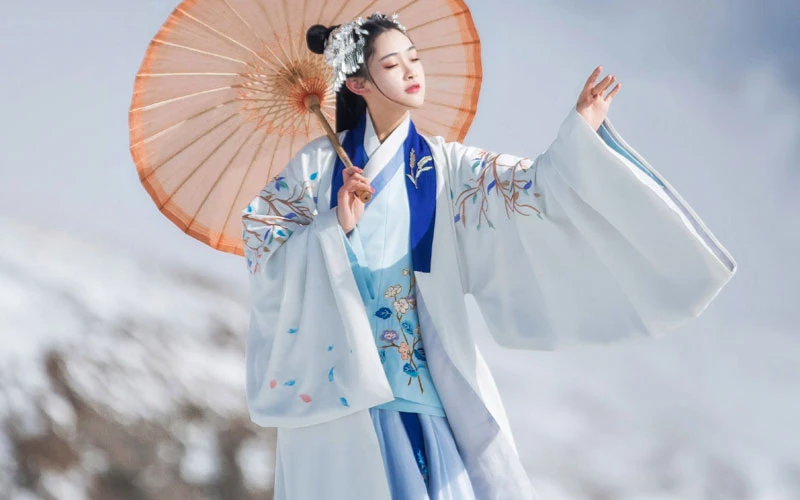 The first type is the classic Daxiushan hanfu jacket. Daxiushan (Large Sleeve jacket) is the most common type of jacket in Hanfu clothing. Hanfu jacket is easy to find in the market, and you can wear this Daxiu shan with any type of qixiong ruqun and qiyao ruqun. Hanfu jacket is a trendy style for those who love wuxia, xianxia cosplay.
The other type of hanfu jacket is the Chang shan or Yuanling shan (round neck long jacket). This is a popular style of hanfu jacket that has been widely used in historical dramas for many years. It's very easy to put on and take off. You can wear it with your favorite hanfu shirt and skirt. It will make you look very attractive.
Most Hanfu jackets have a loose and wide plus size design and are easy to wear. Both Daxiushan and Yuanlingshan are suitable for people who even have a very large bust, waist, and long legs.
Jackets are a classic piece of hanfu clothing that you can wear for the entire year. They are comfortable, lightweight, and provide an elegant look. From spring to winter, you can choose from a variety of jackets in different colors, prints, and patterns. You can even team it up with a warm hanfu coat to enjoy a Christmas and New year holiday. Whatever your style, a hanfu jacket is an incredible piece that can go with everything.
3. Hanfu Coat: Aoqun Coat, Cloak Coat
In the above, we've talked about how to choose the right type of hanfu clothing for the spring and summer. But how about the fall and winter? Here are some things to consider when deciding what hanfu type you should wear on the icy days.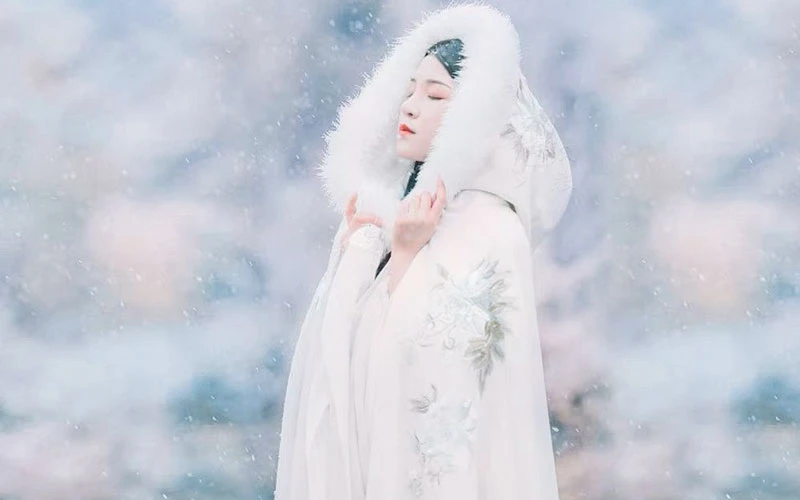 The coat is a winter essential, so why not invest in an excellent hanfu coat? The Aoqun coat is designed to be warm and comfortable to wear in the cold season. Ao has a longer length and a wider width than Ru shan so that it can be worn with a variety of ruqun outfits. One of the most fashionable styles is the wool coat; you can quickly wear them outdoor and go ice skating. And the hanfu coat looks chic with other hanfu bottoms, not just the hanfu skirt and hanfu pants.
Not enough? Add a retro winter hanfu cloak. The vintage cloak is an extremely classic garment and will make your outfit look instantly fashionable. Especially when you're looking for a trendy hanfu coat, that's not too bulky or heavy. It is a great piece to bring out during the colder months. If you want to keep your look elegant, then this hanfu cloak is the best for you! Pair this with a warm aoqun top and a pair of hanfu booties, which are the perfect way to stay warm during the winter season.
4. Hanfu Pants: Songku Trousers, Kuaku
A retro style of hanfu pants is long, loose trousers that are usually worn with other hanfu top shirts and jackets. Women can choose it as casual, and even yoga wear. Vintage hanfu pants have become a popular style for this year.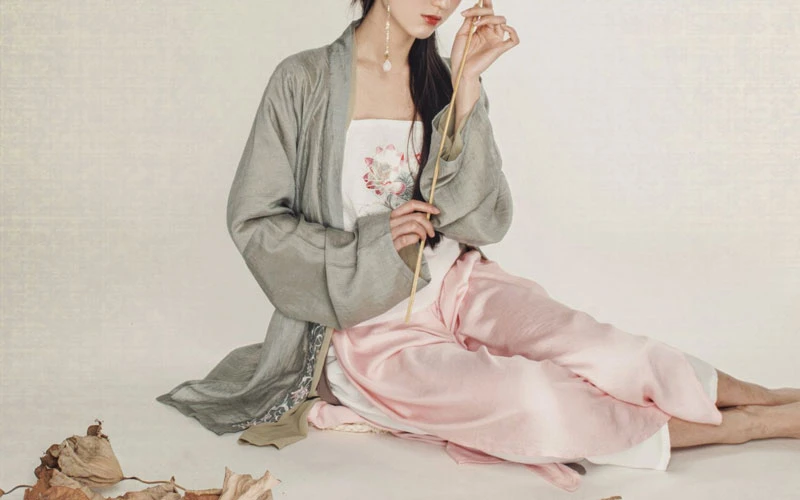 A classic songku style hanfu trousers is a great choice for those who want to express their retro style. Songku is a classic hanfu pant with a relaxed bottom and elastic side seams; the design is also suitable for party wear or beachwear. They are fashionable and easy to wear. You will be comfortable wearing them in all seasons.
And the skinny wuxia style bottom kuaku pants are another the hottest designs. This new hanfu design is suitable for both exercise and sports occasions. It has been created to be paired with any kind of wuxia outfit you choose. The hanfu pants are usually made from pure cotton material and are very comfortable to wear.
In addition, you can pair these hanfu pants with your favorite modern outfit or accessories to get a complete look. Of course, you can wear it with a fashion printed hanfu top to make it more fun. Pants are always easy to care for; just wash them in the washing machine.
5. Hanfu Skirt: Mamian qun, Qiyao qun, Short Skirt
Hanfu skirt is the bottom part of the Ruqun system (qun means a skirt). This is a lovely wrap skirt design that you should try out. For example, the luxury Mamian qun is an elegant and sophisticated style for looking stunning on any occasion. You will get a fabulous look with this stylish dress.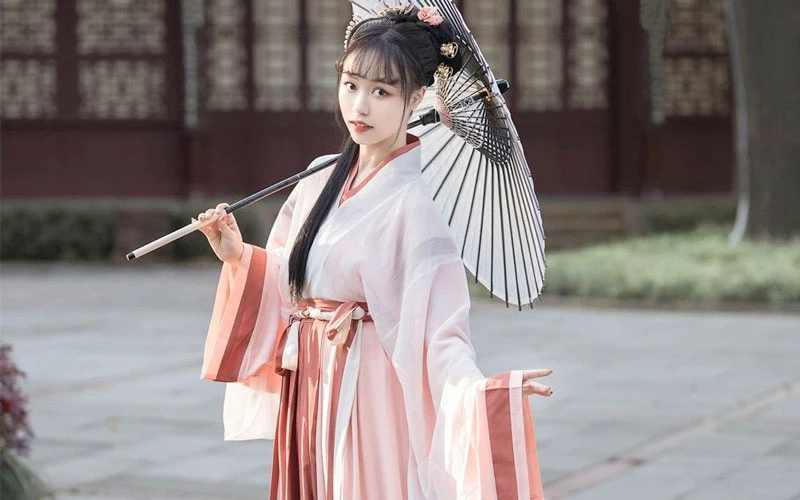 Do you want a fashion hanfu skirt? For many years, Qiyao qun has been the most popular single item, matching Ru shan and Daxiu shan to make it more pretty. These styles are perfect for the modern woman who does not have much time but wants to look stylish. Just a simple classic design with a unique floral print makes this qiyao skirt elegant and attractive. It can be worn for both casual and formal occasions, such as party wear or beachwear.
If you're looking to add a touch of modern hanfu style to an everyday look, then a mini hanfu skirt is the perfect solution. Have a try at this modern hanfu, the skirt is pleated, short cut, slim fit, super cute, and sexy. The short skirt is a great fashion design for young girls. You can wear this hanfu skirt for school parties and functions. The bold design is a good choice for those who like to show off their curves.
6. Hanfu Dress: Qixiong qun, Quju, Zhiju
When we mention Hanfu dresses, almost everyone will talk about Qixiong dresses. A lovely retro women hanfu qixiong ruqun or shanqun system is a long high waistline dress and a short length hanfu shirt. Qixiong dresses also have a wide wrap strap and long hemline (3 Meters or 6 meters). Qixiong Hanfu dress is an excellent choice for a party look, especially when worn with a pair of embroidery hanfu shoes or heels. This is a retro-style dress that will surely impress people as you wear it.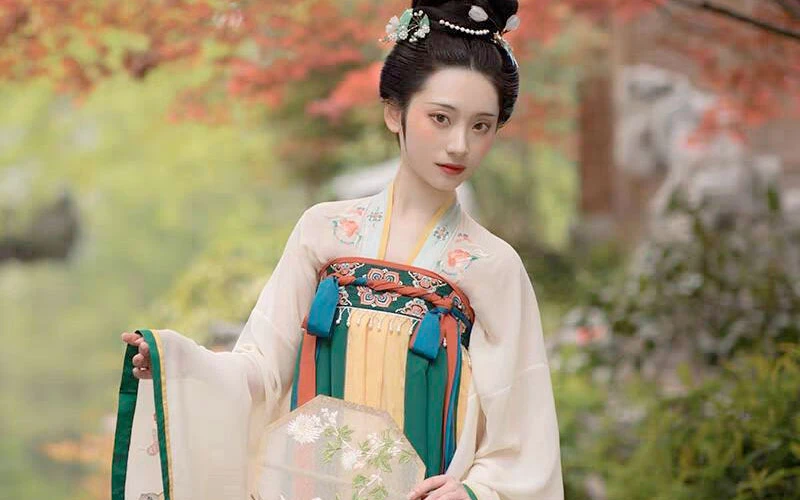 In the past, qixiong belonged to royal dress,  a great dress for formal occasions, It has an open collar that will give you a classy look, a good fit for women who like wearing long dresses, and you will feel relaxed and comfortable wearing this dress. It also looks like a beautiful princess dress with floral patterns and multi-color combinations. The material is high quality, and the fabric is lightweight, soft to touch, and comfortable—an elegant and luxury retro look for women. You can wear it for a wedding or festival.
Quju and Zhiju hanfu dress have a long history; they are one-piece design, not very easy to wear, You can think of it as a quilt wrapped around the body and a classic one with brown or red color is a perfect choice for any formal occasion. So most of the quju dress you can only see in the TV series, for example, the three kingdoms and Han the Great Han Dynasty.
7. Hanfu Robe: Daopao, Feiyufu, Changpao, Dachang
From traditional styles to modern and contemporary designs, here are some fabulous examples of timeless robes that are practical and stylish. It is not as expensive as you think. It's one of the most comfortable robes that you will ever wear. You can wear it anywhere. It will look good on you.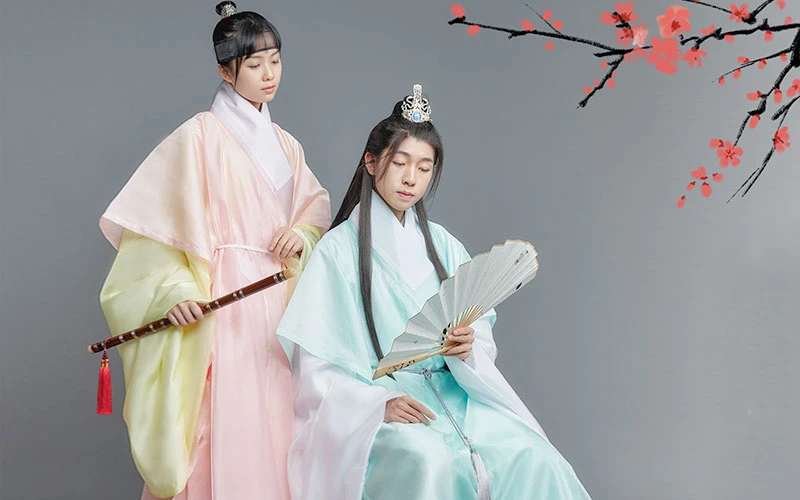 A famous retro daopao hanfu robe (Taoist robes) is a great addition to men's wardrobes. They are fantastic, handsome and will help you feel like you're ready to take on the world. When it comes to choosing a popular hanfu robe, there are many different shapes and sizes available, from loose-fitting robes to fitted ones, and even ones that are meant to be worn with hanfu pants. Taoist robes are an all-rounder. The best part about this hanfu robe is that you can wear it for many years to come.
If you are looking for something classy, you should try Changshan or Dachang hanfu robe (long and big robe). This is an elegant hanfu design for men. It is designed with a midi length, a wide waistband, a straight hemline, and a side slit. It will be a stunning look on you with solid color and a few cloud embroidery. Depending on the type of robe you want, you might choose one with long and middle sleeves. To make sure that the robe is comfortable for you, there should be inside pockets, as well as straps for carrying it across your body, and if there is an adjustable belt, that should be included too.
Feiyufu is a very popular male's hanfu Uniform, especially in the past, when people wear it as office wear. The feiyu robe can be a formal or casual outfit, depending on how you wear it. You can also buy many different sizes and colors, get one for yourself or as a gift for someone.
8. Hanfu Underwear: Zhongyi, Dudou Halter, Songmo Camisole
For men, a solid color Zhongyi hanfu underwear (inner shirt and pants) is good enough. But for women and it can be difficult to find the right one fit chest very well. There are so many hanfu underwear tank top options available. If you want to look great, you should choose the right underwear for your body. Besides, it can be paired with any kind of hanfu tops such as hanfu shirts, blouses, jackets, etc.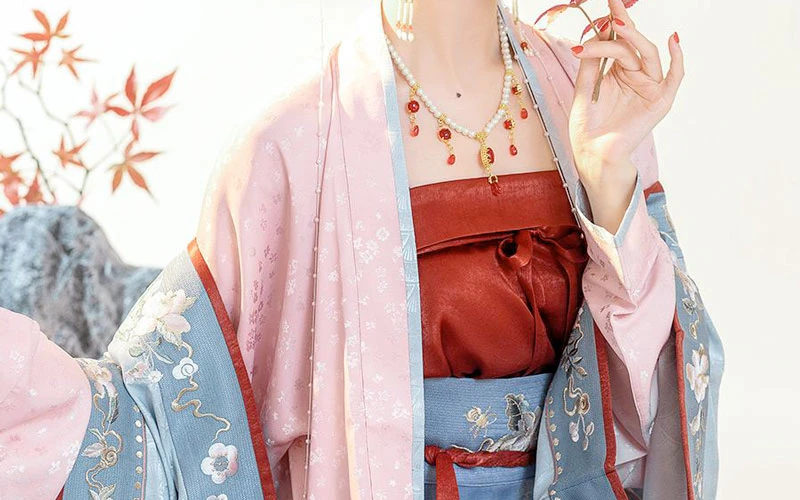 Women's hanfu underwear has more choice. First, You should be able to move freely without feeling any discomfort. and then depending on your needs. You should also choose a size that fits you well. Moxiong or Songmo is a good helper. Hanfu songmo underwear is a one-piece wide wrap camisole; just wrap your chest with it and tie; it's all done. The bra can make the outfit look very sexy and beautiful. Moxiong is free size; no matter you have a small or large chest, this ancient hanfu bra works well.
Hanfu dudou or halter is another comfortable underwear. This retro hanfu tank top design is similar to today's halter camisole. Very soft and easy to wear. Some people think that they look great in this dudou. You can wear it as a casual hanfu top, which is also great for wearing on the hot summer days.
Conclusion
For many people, the idea of dressing up in a fancy hanfu outfit is fun and exciting. There are many types of hanfu that you need to know before buying a hanfu garment.
For example, if you are looking for a pair of pants to wear to work, then you should choose a simple design hanfu songku. And if you need an elegant dress that is suitable for a special occasion, then you should select a qixiong ruqun or robe. Don't forget your size, It's important to wear different hanfu types that fit well and flatter your figure. Once you are wearing clothes that are too tight, they won't look good on you.
It would help if you also considered whether the hanfu is made from a synthetic or natural material, as these materials have different properties and will affect how comfortable the hanfu is to wear.
This is a guide to the best types of hanfu for women and men. Although there are many hanfu clothing types, styles, and designs, not all hanfu types will work for you. Following the list, You can find the right hanfu type by understanding the trends and styles that works best for you. I hope that you enjoyed this post and that it has been helpful to you.