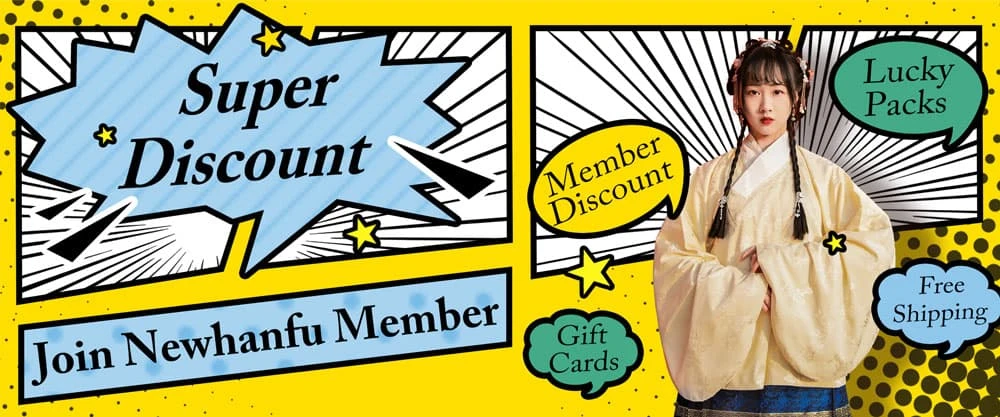 Aoqun also comes in many different designs and can vary slightly in collar, sleeves and length of the top. The classic Aoqun set (with a horse face skirt) is usually very luxuriously made and will make you look like a noble princess or elegant beautiful lady.
What is Aoqun Hanfu?
Aoqun, is a collective name for the ancient Han Chinese women wearing a hanfu jacket (Ao) on the upper body and a skirt (qun) on the lower body. The Aoqun, jacket-skirt hanfu system has been recorded from the Tang Dynasty until the Republic of China. In modern times, when talking about the Aoqun hanfu, we are referring to the traditional hanfu jacket and skirt of the Ming Dynasty. The term "Ao & Qun" in Hanfu generally refers to the Ming Dynasty's double-layered upper jacket and lower skirt (skirt is usually single-layered) with lining.
The Ao top from the Tang Dynasty began to replace the Ru shirt to become a daily winter clothing, from the later Song, Ming and Qing Dynasties, the production of the Ao coat generally maintain the characteristics of long sleeves and cut slit, and the slit is usually on both sides. The Tang to Jin Dynasties have a separate slit in the back of the Ao, which is another name, back-open Ao.
The Qun has many varieties of skirts, such as the Tang Dynasty, which used a patchwork skirt with Ao coat; and the Song Dynasty, which used a pleated skirt with Ao jacket. However, because the word Aoqun is nowadays mostly used to describe the Ming dynasty women's hanfu clothing when we discuss Ao and Qun, it generally refers to the Ming style horse-faced hanfu skirt.
Find the best Aoqun Hanfu for You
Buying a warm hanfu coat in the winter is a great investment in your health. It is an important accessory in your wardrobe and can provide you with the feeling of warmth and protection from the cold. The type of aoqun hanfu you choose depends on your needs and personal preferences.
When it comes to finding a women's warm outdoor hanfu, you have a lot of choices to make. For starters, you'll want to decide if you're looking for a classic style or a trendy, fashion-forward look. You'll also need to think about the type of material you'd like the aoqun coat to be made from—cotton, wool, polyester, nylon, and so on. And finally, you'll want to consider whether you want to spend more money on a high-quality winter hanfu that will last longer or save money and buy a less expensive coat that will last just as long.