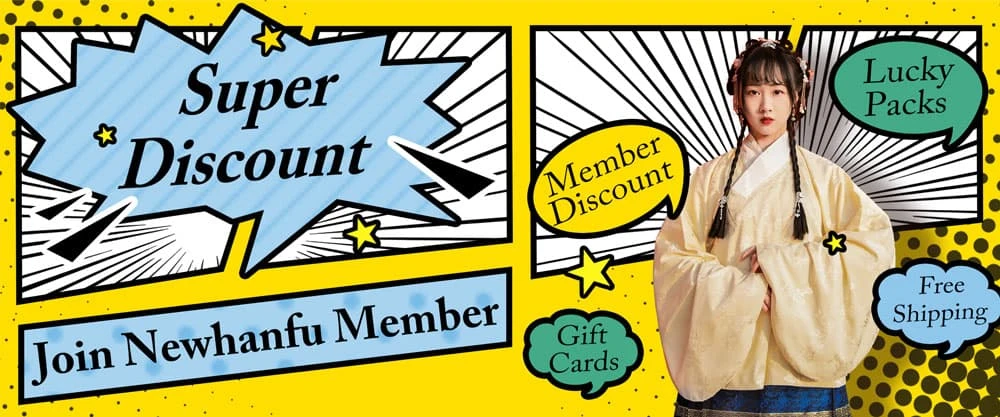 Women's hanfu fashion is a dynamic market that constantly evolves with new trends, styles, and products. In order to stay ahead of the game, it's important to keep up with the latest hanfu trends and find the latest and greatest fashions for yourself.
Qixiong Hanfu is one of the most popular traditional Hanfu styles at the moment. If you need a classic long Hanfu dress and want to take beautiful Hanfu photos, Qixiong Hanfu is a good choice for all ladies and girls. Qixiong hanfu is also very elegant and gorgeous, perfect for weddings and parties!
Traditional Qixiong Ruqun
Traditional qixiong ruqun dress is one of the most beautiful hanfu clothing styles of all time. Qixiong hanfu has a long history, and it is still used by lots of people in west China. Traditional qixiong dress has a lot of advantages, such as making you look elegant, becoming a symbol of national culture, and being a part of history. Today, many young girls wear traditional dresses because of their simplicity, beauty, and ease of wearing. You can choose to wear a traditional qixiong ruqun when attending a wedding, a party, a concert, or a Chinese festival.
Tang Dynasty open-collar and high-waist fashion is one of the oldest forms of clothing. Ancient Chinese women have been dressing themselves for over one thousand years. It has changed over time, but it has remained a basic part of traditional culture. Today, we can wear any hanfu styles we want and are free to express our individuality and creativity, as well as dress in a way that reflects our personalities and lifestyles.
Fashion Qixiong Hanfu
The latest trends in hanfu clothing can be difficult to find, but we're here to help you find the best modern fashion women's qixiong hanfu dress in the new season. Whether you want to be the most stylish girl at your next event or you just want to look great this year, you'll find the perfect modern hanfu dress here.
There is no longer a need to follow the traditional styles that were common in the past. Fashion hanfu is about being yourself and expressing yourself through the clothes that you wear. As a result, there is a wide range of different fashion qixiong dress choices available to you, and the choice of what to wear is completely up to you. And you don't have to worry about what others think. If you want to wear a particular hanfu outfit, then you should be able to find something suitable for you.
With the modern qixiong dress, we can mix and match pieces from different hanfu collections and still look great. Another big trend is the introduction of new fabrics. Materials like mesh, satin, lace and chiffon are now being used to create new hanfu styles. As for accessories, there have also become more versatile. The most popular accessory this year will be the statement necklace. Ladies are starting to wear retro hanfu necklaces that are longer than usual. The trend is not only popular among celebrities, but also among everyday women.