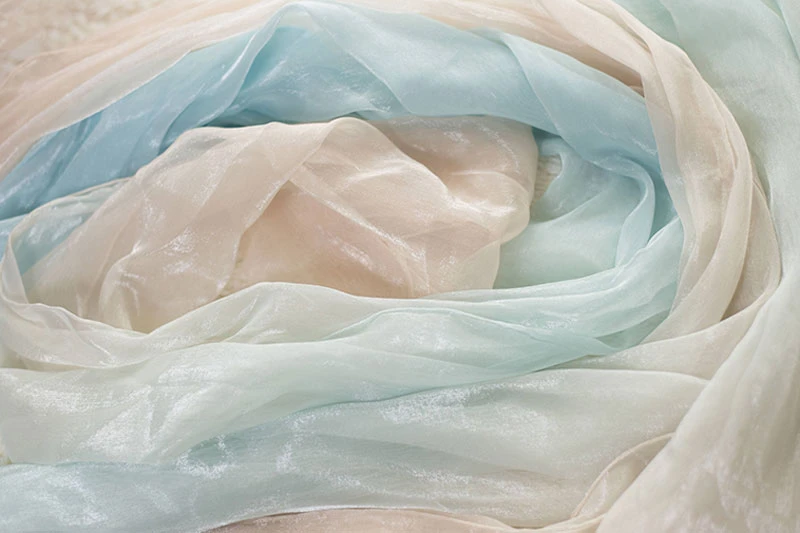 Silk is a beautiful fabric that can be used for both casual and formal occasions. It's a popular choice for bridal gowns and prom dresses because of its elegant look and feel. The best thing about silk is that it's a natural fiber, which means it's hypoallergenic and easy to care for. But it's not just for brides! Silk can be found in a variety of hanfu styles and colors, making it the perfect choice for any type of event. Here are some of the most popular styles of silk hanfu dresses in our store you can choose from.
A Brief Knowledge of Silk Fabric
Natural silk is made from the cocoon of a silkworm. When the silkworms have been fed on mulberry leaves, they produce a thread which is then spun into a thread called raw silk. The silkworms will spin this thread for a few hours before they die. The silkworms are then harvested and boiled in hot water to remove the gluey substance which is used to protect the silk. Once the silk is removed from the silkworms, it is washed to remove any debris and chemicals. The silk is then dried and graded depending on how smooth it is. The best grades are then dyed and processed into different colors.
Silk is one of the strongest natural fibers that we know. This is why silk fabric is very useful in fashion. It can withstand high temperatures as well, you can wash silk fabric, iron it, sew it, make it into a robe, and even dye it. If you are looking for a beautiful dress to wear, you should buy a silk gown. Silk dresses are very popular among women of all ages. You will enjoy wearing this dress because it has a very unique look, can also add different patterns and designs to make your silk dress special. Some of the silk dresses come with a nice lace design.
The silk fabric has many benefits, including being breathable and comfortable. Silk is very durable and is one of the most long-lasting fabrics on earth. It is also very beautiful. Silk is often used for clothing because it is soft, durable, and looks great. There are several different types of silk fabrics available today, including silk scarves, silk blouses, silk shirts, and silk dresses. There are many different ways to choose a silk dress. Some people prefer to buy a silk dress online. Others like to visit a store and try them on. Either way, buying a silk dress can be a fun and enjoyable experience.
Silk material is hypoallergenic and can be worn by people with sensitive skin. It is a natural fiber and does not contain any harmful chemicals, is very comfortable to wear and can be made in any size. Besides, silk is easy to care for and can be washed in a variety of ways. Silk is also very durable and will last for years if cared for properly. So you need to know how to choose a silk hanfu dress that will last you for a long time. If you buy a cheap silk dress, you could end up having to replace it in just a few years.
The Silk Hanfu Feature
Silk fabric has many advantages. If you are planning to buy something like a silk hanfu dress or a silk hanfu blouse, then you should know about the types of silk fabrics that you can buy, it is best to understand the different qualities that each type of silk has. Here are the different types of silk you should know about.
For example, satin is a very traditional type of silk. It is produced by weaving silk together with cotton. These kinds of fabrics can last for a long time. You can wear them for a long period of time. They look good even if you wash them. However, this type of fabric is not cheap.
Now, we all know silk is extremely expensive and difficult to manufacture, so silk is usually found only in the high-end retail and luxury markets. The primary advantage of using silk in hanfu clothing is that it naturally keeps you cool in warm conditions and warms you up when it is cold. This happens because the silk fibers are coated in natural oils that help to regulate your body temperature.
Silk is also an ideal material to make a wuxia cosplay costume or a hanfu wedding dress because of its high quality. There are many kinds of silk fabrics, including satin, chiffon, organza, crepe, taffeta, georgette, velvet, velour, and so on. Among them, the most commonly used ones are satin and silk chiffon. Silk chiffon is a silk fabric with a fine layer of cotton at the top. Silk chiffon is soft and stretchy. It can be worn on any occasion, and it can fit any figure. It also looks elegant and refined.