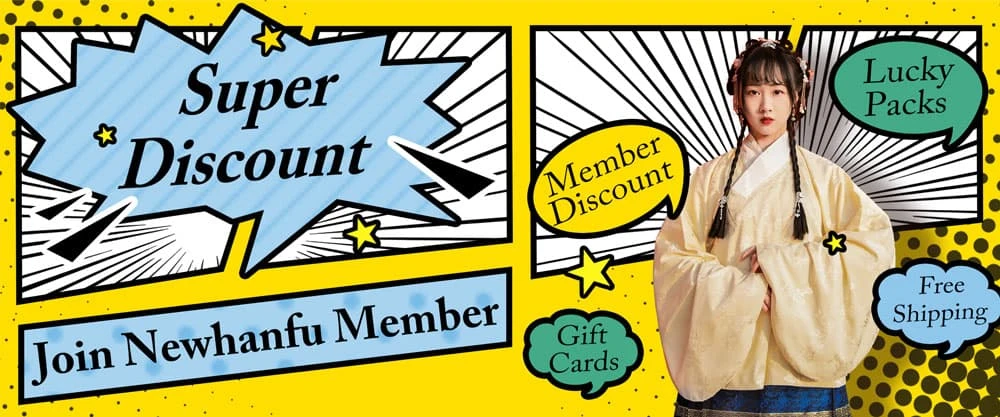 The Tang dynasty is one of the most famous dynasties in Chinese history, it was a period of great prosperity and peace in China. We know that the Tang dynasty Hanfu outfit is a traditional Chinese clothing style, and the most common types of hanfu are Qixiong hanfu, Hezi hanfu, and Tanling hanfu. Here are some tips to help you choose the best retro tang style hanfu dress for you and your family.
Tang Dynasty Qixiong Hanfu Dress
Traditional Tang dynasty Chinese hanfu clothing is very famous, especially the Qixong Hanfu (Chest Ruqun) style. In the Tang dynasty, Qixiong Hanfu was used as the formal dress for women and girls. Tang dynasty hanfu dresses were made of silk and satin fabrics, which were usually decorated with embroidery. Tang dynasty hanfu dresses are also known as Tang dynasty hanfu suits or Tang dynasty suits.
Nowadays, modern design Tang dynasty hanfu suits were very popular among young girls and ladies, and more and more people like to wear them to travel today. It is very popular for hanfu wedding dresses, Tang dynasty hanfu wedding dresses are known for their intricate embroidery and rich colors.
Tang Dynasty Tanling Hanfu Dress
The best thing about tang dynasty tan ling hanfu dresses is that they are incredibly versatile and can be worn by women of any age. The Tang dynasty Dunhuang hanfu styles range from casual to formal. The colors are bright, and the designs are eye-catching.
Tang dynasty Dunhuang hanfu dress is one of the most famous and expensive types of clothing in the world. Dunhuang hanfu dress is an important part of Chinese culture, and it is a common sight in many Chinese museums.
Modern style Tanling hanfu dresses are comfortable, easy to wear, and can be worn in so many different ways. You can wear them to work, school, parties, and even to travel!
Tang Dynasty Hezi Hanfu Dress
The Tang dynasty hanfu Hezi dress has a long history, and it's been worn by many famous people, for example, Yang Yuhuan (Princess Yang) and Queen Wu. Traditional Hezi hanfu was usually only allowed to be worn in the palace, so it was the formal dress of noble princesses and queens.
Because of the elegance and luxury, the hezi hanfu dress is also a great choice for the hanfu wedding dress. Also, you can wear it to take top-notch outdoor wedding photos.
In the world of fashion, a classic piece of clothing can become a trend, and then a fad, and then a style staple, and then an iconic fashion item. One of the most famous examples of the Tang dynasty hanfu dress, which has been a wardrobe essential for women since the 21th century