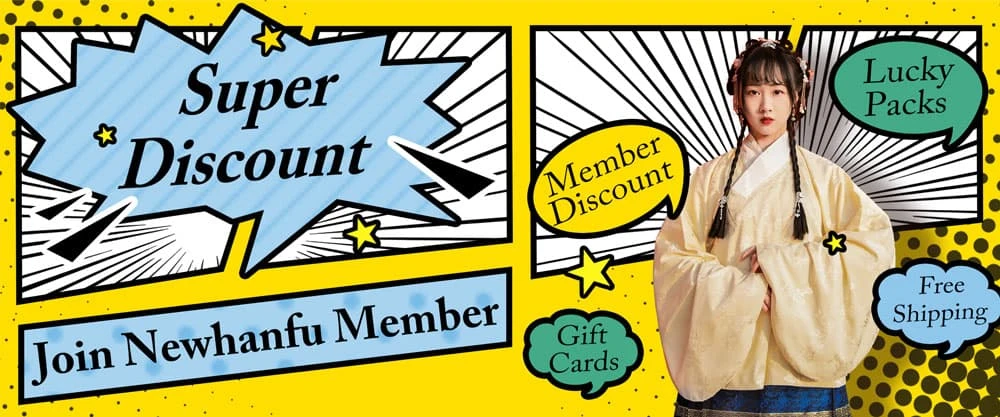 Lucky Packs and Happy Packs for Hanfu Beginners
Getting into hanfu fashion means a lot of initial costs. These can pile up very quickly, if you don't watch your spending. For a newbie hanfu, a happy pack is a quick way to get an almost complete experience.
Lucky packs are a great way to get a whole bunch of items for 50 to 70% off retail! Each lucky pack contains a random assortment of beautiful hanfu clothing!
Our happy hanfu pack is a non-profit activity of Newhanfu Store. All packs are currently available to our members-only, which is a part of the member benefits. To learn more about the benefits of our membership, please click here.
How to choose Hanfu Lucky Pack?
The hanfu lucky pack is equivalent to a grand discount offer, and the items inside the package are very attractive. While some consumers may be satisfied with the products they expected, others may be frustrated by getting items they don't even need. Although in principle the items of the lucky packs are not disclosed, our packs are sorted by popular hanfu style, including a wide range of women's hanfu, men's hanfu, classic hanfu, modern hanfu, and many other hanfu types, so you'll have a very big chance of getting a perfect hanfu set.
"Buy the lucky pack and get a lucky hanfu dress!" The packs include two or three items, and you can buy as many as you like. The goal of the Lucky Pack is to create a new way to help more hanfu lovers to get brand new hanfu sets at a low price, where you can buy multiple items for the price of one.