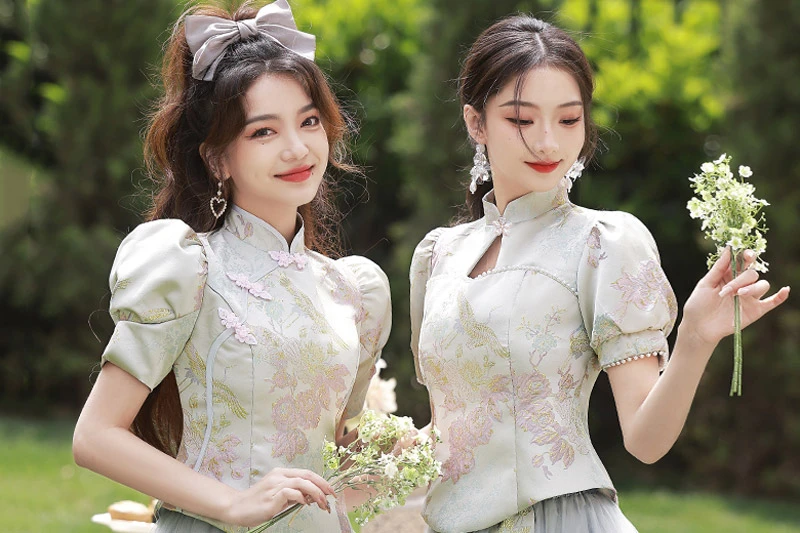 A wedding is one of the most important events in a person's life, and for many brides, choosing the perfect dress is a top priority. While traditional Western-style wedding dresses are popular choices for many brides, those who want to incorporate their Chinese heritage into their wedding may choose to wear a wedding qipao or cheongsam dress instead.
History and Significance of the Wedding Qipao
The qipao has been a part of Chinese culture for centuries. The dress has a unique design that features a high collar, fitted waist, and a long skirt that falls just above the ankles. The dress was originally made with silk or other luxurious fabrics and was often adorned with intricate embroidery or beading.
In the 1920s, the qipao underwent a transformation and became the stylish and fashionable dress we know today. This was due in large part to Hollywood movies that portrayed Chinese actresses wearing the dress in a new and glamorous way. Now, it become a symbol of femininity and sophistication and was soon adopted by women all over the world, also was seen as a way to incorporate traditional Chinese elements into a modern wedding ceremony.
Different Styles of Wedding Qipao
While the basic design of the wedding cheongsam remains the same, there are many different styles and variations available. Here are a few of the most popular:
Classic long qipao – A long qipao dress may have a longer train, giving it a more formal, elegant look. This is the traditional style of wedding qipao dress, with a high collar, form-fitting silhouette, and side slits. It often features intricate embroidery or beading.
Modern qipao – The modern qipao dress may have a lower collar, a more relaxed fit, or other modern embellishments, such as lace or sequins.
Mini short qipao – For a more playful, youthful look, some brides opt for a mini qipao dress that hits above the knee.
Why Choose a Wedding Qipao Dress?
If you are looking for a beautiful Eastern-style dress for your wedding day, a wedding cheongsam dress might be just what you need. Cheongsam dresses are elegant and timeless, and they offer a distinct look that is sure to make you stand out on your special day. They are also a nod to Chinese heritage and culture, which can be a meaningful way to honor your family and ancestors.
Another reason to choose a wedding qipao dress is that it is extremely versatile. The dress can be worn for any type of wedding, whether it is a traditional Chinese wedding or a more modern Western-style wedding. The dress also looks stunning in both indoor and outdoor settings and can be customized to suit your personal style.
Tips on Choosing a Wedding Qipao Dress
When choosing a wedding cheongsam dress, there are several things to consider. Here are some tips to help you find the perfect dress for your big day:
Consider the Color – Traditionally, red is the color of choice for Chinese weddings as it symbolizes luck and happiness. However, white wedding qipaos have also become popular in recent years, as they represent purity and innocence. Other colors such as gold or pink can also be used if you want a more modern look.
Find the Right Fit – The fit of your wedding qipao dress is crucial. The dress should be snug around the body and accentuate your curves in all the right places. Be sure to get your measurements taken by a professional seamstress to ensure a perfect fit.
Choose the Right Fabric – Silk is the most traditional fabric for qipao dresses, but other materials such as chiffon, cotton or brocade can also be used. Make sure the fabric is comfortable to wear and allows you to move around freely.
Look for Embellishments – A wedding qipao dress can be adorned with various embellishments such as embroidery, sequins, or beading. These details can add an extra touch of elegance to your dress and make it truly unique.
Consider Your Venue – The venue of your wedding can also influence the style of the qipao dress you choose. A red dress might be more appropriate for a traditional Chinese banquet, while a white dress might be better suited for a Western-style wedding.
Different Colors of Chinese Wedding Dress
In Chinese culture, certain colors have special meanings and significance. It is important to consider the meaning behind each color and choose one that resonates with you. Here are a few of the most popular colors for wedding qipao dresses:
Traditional Red Qipao Dress
The traditional red qipao dress is the most popular style chosen by brides in China and Chinese communities around the world. The color red is considered auspicious and symbolizes good luck and happiness. This style of dress typically features a high collar, fitted bodice, and long flowing skirt made from silk or other luxurious fabrics. It may also be embellished with intricate embroidery or beading.
Fashion White Qipao Dress
A white qipao dress is a more modern take on the traditional red dress. It is a popular choice for brides who want to incorporate Western wedding traditions into their big day. White qipaos are typically made from lace or other sheer fabrics and may feature floral embellishments or other decorative elements.
Luxury Gold Wedding Qipao
The gold color is a rich and luxurious choice for a wedding qipao dress. It's a bold and striking color that symbolizes wealth, prosperity, and good luck in Chinese culture. A gold wedding cheongsam outfit is perfect for brides who want to make a statement and stand out on their special day.
When choosing a gold wedding qipao clothing, it's important to consider the shade of gold that you prefer. There are many different shades of gold, ranging from light and delicate to deep and rich. Some gold qipao dresses are made with metallic gold fabric, which can add extra shine and sparkle to your overall look.
Cute Pink Wedding Qipao
A pink wedding qipao is a romantic and feminine option for brides who want to incorporate a touch of softness and sweetness into their bridal look. Pink is a versatile color that can range from pale blush to bright fuchsia, giving brides plenty of options to choose from.
Depending on the shade of pink you choose, a pink wedding qipao dress can be paired with a variety of accessories. Pastel pink qipao dresses pair well with delicate silver or gold jewelry and soft, neutral-colored shoes. Bright pink qipao dresses, on the other hand, can be paired with bold statement jewelry and shoes in complementary colors such as red or purple.
Blue Color Wedding Qipao
The blue color is a less common but equally beautiful choice for a wedding qipao dress. Blue represents trust, loyalty, and stability in Chinese culture, making it an appropriate color choice for a wedding celebration that symbolizes the commitment and loyalty between two people.
When choosing a blue bridal cheongsam dress, there are several factors to consider. Shades of blue range from pale sky blue to deep navy, so it's important to find a shade that complements your skin tone and overall style. Lighter shades of blue are perfect for spring and summer weddings, while darker shades are more suitable for fall or winter weddings.
A traditional Chinese wedding qipao dress is a beautiful and unique choice for your special day. Whether you choose a traditional red dress or a modern white dress, there are many styles and designs to choose from that will make you feel like the most beautiful bride in the world. Use these tips to help you find the perfect dress for your big day, and don't forget to have fun in the process!