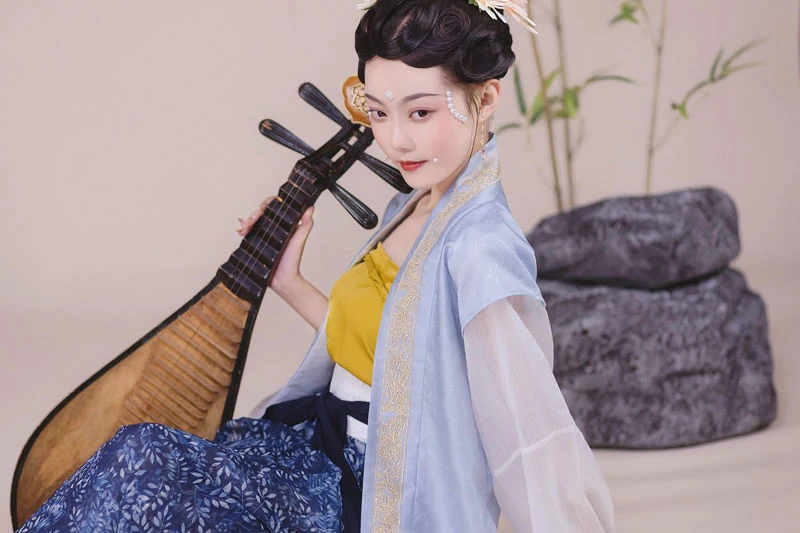 With a casual Chinese hanfu blue outfit, you can turn any frown upside down. See our selection of shades and sizes designed for everybody.
Blue is the color of nature, the sky and the ocean, also is the color of calm, confidence, harmony, and peace. When it comes to choosing your blue hanfu dress, there are many different options, like male blue hanfu and female blue hanfu to consider.
Blue Hanfu Reviews
"Blue is the color of a happy life." When I was a kid, my mom would always tell me to wear traditional Chinese blue hanfu clothes on certain holidays and festivals. I remember her telling me that wearing a blue hanfu dress would make me feel good. And it did! I still have those child blue hanfu clothes that she bought for me when I was a child. – Yuanyu Guo
A few years ago, I bought a blue hanfu dress for a special occasion. I was very excited when it arrived in the mail. I wore it for a few days, and then I got numerous compliments. I am a big fan of the blue hanfu costume. It's calming, and inspiring, and can be used as an effective tool to help you focus and relax. Now I have so many beautiful modern blue hanfu that I could wear to work and to go on dates with my boyfriend. – Alyssa Sang
I'm not the only one who loves a good blue hanfu dress. In fact, it's one of my favorite colors. When I was growing up, I loved wearing dresses in this color. The bright blue hues of the sky and ocean, the warm tones of the sun and clouds, and the cool blue of the water made me feel happy. The color of the sky is a symbol of optimism, and peace. – Elly Hwang
I am the daughter of a hanfu designer. I have been surrounded by hanfu fashion since birth. I can remember being in the hanfu store when I was a child and looking at the colorful traditional hanfu clothes and wondering, "Why the blue hanfu is more popular than other colors of hanfu". The answer it that blue is the color of happiness and passion. – Milca Candy
Blue Hanfu Tips
The color of your hanfu clothes can have a huge impact on your mood and confidence. And when you wear a blue hanfu dress, you're guaranteed to look absolutely stunning. Besides, blue and red hanfu, and blue and white hanfu dresses are very popular with the young generation.
In our lives, blue is the color of hope and faith. In the fashion industry, it's the color of luxury, sophistication, and class. If you're planning to buy a new blue hanfu dress for a special occasion, then you should be careful and choose the one that matches your personality and your event perfectly.
Light blue, sky blue, dark blue, or navy blue hanfu? Choosing the right hanfu color for your clothing can be an overwhelming task. You want to find the best shade that matches your skin tone, but you also want it to be unique enough to stand out. This is where it gets tricky.
You don't want your beautiful blue hanfu outfit to be too bright or too dark. Light blue hanfu and dark blue hanfu, which is better for you? Or maybe it should be somewhere in between. Here are some tips for finding the perfect blue hanfu dress.
Blue Hanfu FAQs
1. Can I wear Blue Hanfu for what occasion?
It's versatile. You can wear a traditional blue hanfu dress to a formal event, or you can wear a modern style blue hanfu T-shirt to a casual gathering.
2. How to Wash Blue Hanfu?
Hand Wash and Natural air drying.
3. What's the Blue Hanfu Meaning?
Blue Hanfu costume is casual color, which means that you can wear it as your daily dress.
4. Can a foreigner wear Blue Hanfu?
Sure, everyone could wear blue and any other color hanfu dress.
5. How to choose the best Blue Hanfu?
Light blue hanfu or sky blue is simple for casual; Dark blue hanfu or navy blue is better for events and taking outdoor photos.