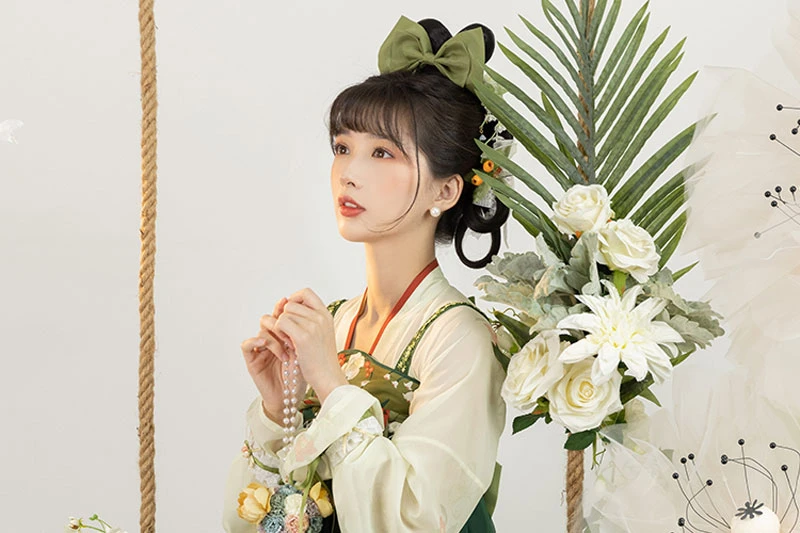 Freshen your fashionable style with a green hanfu dress for women at Newhanfu. Shop a variety of sizes from misses and juniors to plus, petite and tall. Beautiful green clothing in sage, teal, olive & hunter makes an entrance captivating.
Vibrant Green Hanfu
Green is the color of spring and nature, the color of fresh growth and renewal. So it should come as no surprise that the color green hanfu is a favorite among fashionistas everywhere. Light green hanfu outfit is also a popular and hot fashion trend for hanfu girls.
Green dresses are one of the most popular fashion items. Many fashion hanfu brands offer a wide range of green hanfu clothing for women and girls. Some hanfu designers create light and dark green hanfu, even adding a splash of gold or red. When it comes to choosing the best women's green hanfu dress, you should consider several factors, such as the hanfu style, fabric and pattern. – Mohan Isa
My favorite green hanfu dress is a modern design cotton & chiffon ruqun, which has been washed many times and has a smooth and soft texture. The color of this dress is light green, the collar of this ruqun shirt is round and has a V-shaped neckline, the sleeves are long, and have two tie belts. Ruqun skirt is a spring wild flower print that's so cute and I super love it. – Elizabeth Jex
I am a youth mom, and I love dressing up. When it comes to choosing a green hanfu dress, I like to choose the one that suits my personality. I have tried many different types of classic hanfu dresses, and I have found that some are not suitable for me, like Qixiong ruqun. Finally, I got my best green hanfu which is a Song dynasty hanfu pants set. – Arvin Rose
Modern style light green hanfu dress is a popular item for work and casual wear. It is a very comfortable and fashionable choice for many occasions. In addition, green and white hanfu are also a very good choice for wedding dresses. A green hanfu can not only make your personality more charming and beautiful but also make your figure more slim. – Pia Ting
Green Hanfu Tips
Choosing a suitable green hanfu is very easy, but what if you're not an experienced hanfu buyer? Here are two real reviews from green hanfu lovers that will help if you're just looking for a simple, classic, and timeless male and female green hanfu costume.
A green hanfu dress is a wonderful piece of clothing, but there are many different hanfu types men's green hanfu and women's green hanfu dresses in the market, so it is important to know how to buy a perfect green hanfu dress that will make you look stylish and feel good.
With its clean, fresh and healthy image, green hanfu has become a favorite among women in recent years. They're a great way to add a pop of color to your wardrobe without spending a fortune. If you're looking for a fun and stylish outfit to wear this weekend, then you've come to the right place.
There are many different types of hanfu green dresses available, light green, and dark green, these hanfu are very fashionable and stylish and can be worn to any occasion. And we have chosen some of our favorite green hanfu dresses for you to browse.
Green Hanfu FAQs
1. Can I wear Green Hanfu for what occasion?
Green hanfu dresses can be worn for almost any occasion, such as an elegant cocktail party or a formal dinner; daily wear, office and wedding.
2. How to Wash Green Hanfu?
Hand Wash and please don't wash light green hanfu with other dark color clothes.
3. What's the Green Hanfu Meaning?
Green is the color of nature and represents a healthy, eco-friendly lifestyle. It is a color that can be used to create a beautiful hanfu outfit.
4. Can a foreigner wear Green Hanfu?
Sure, everyone could wear green, light green, dark green hanfu, and any other colors hanfu dress.
5. Green Hanfu can be worn with other colors?
Yes. Fashion designers often add a splash of green color to traditional Chinese hanfu outfits, like green and gold hanfu skirts, green and white hanfu shirts, green and red hanfu robes, and more.