Choose A Plan To Start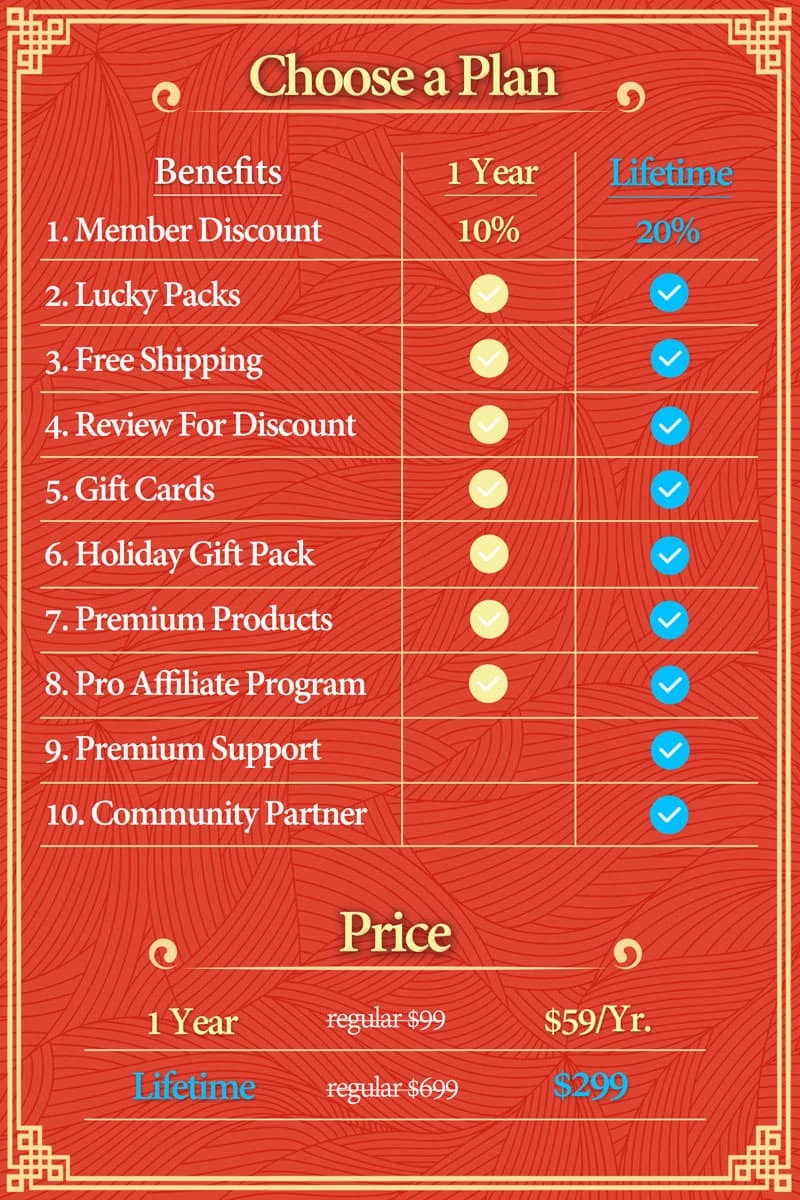 Join our Membership to unlock amazing benefits
1. Member Discount

Enjoy 10%-20% Off Discount on all products, including on-sale products. Member discount prices will auto refresh immediately when any membership plan is active, and then enjoy your shopping, no coupon code is required.
Enjoy 10% Off for 1-Year Membership

Enjoy 20% Off for Lifetime Membership
tip: you can still use more coupon codes, review discounts, store credits & gift cards to checkout after have you subscribed to any membership. Please join our newsletter to avoid missing every deal
2. Member Lucky Packs

Lucky Pack is a non-profit program for members only, you can get a random brand new hanfu set at a super cheap price – under $39. See all Lucky Packs
tip: lucky pack is not a product, so it doesn't support coupon, discount, return & refund, only if there is a quality problem, we will send you a new one.
3. Member Shipping Upgrade

Member's shipping address in our Fast Shipping Regions will get an additional upgrade of free shipping method on all orders.
tip: for more shipping regions, please see the Shipping Policy.
4. Review for Discount

Review Discount: just get a big discount to order and review your favorite hanfu – 20%-50% off stacking discount.
We all would like to hear an honest product review from you – it will not only help other customers choose the right items but also help us optimize the product and do better in the future, so please feel free to leave your thoughts, even the worst part of the product.
tip: we'll invite members to review the latest hanfu via newsletter, and please write your review within 1 week after the package is delivered.
5. Gift Cards & Coupons

When the holidays come, we will prepare a large number of Gift Cards & Coupon Codes for all members.
tip: gift cards & codes are available for on-sale products.
6. Member Gift Pack

During the holiday season, we will present our members with a free unique Gift Pack, including many beautiful hanfu accessories, jewelry, etc.
tip: gift pack will be shipped along with the order package.
7. Member Featured Products

Some premium and limited products in Grand Sale will only be available to members.
tip: many products will not continue to be produced in the future and become out-of-print.
8. Affiliate Program

Join our official Affiliate Program for free and enjoy an upgraded Pro Affiliate Level with more awesome support.
tip: the affiliate is 100% free and easy to use, just refer our store to your friends and get high commissions.
9. Premium Support

Ask any question and receive answers within 1 day on average from our Premium Support team. And we will do our best to fulfill your needs, such as custom design, gift packing, same-day shipping, and more.
tip: chat live with our Facebook Support team and receive priority responses on your tickets.
10. Community Partner

If you are a fashion-related designer, blogger, or influencer; we look forward to being a partner with you! And we'll show your work and business in the hanfu community for free.
And More…

We are preparing more membership benefits, please stay tuned!
tip: new benefits added in the future are free for members, no second payment is required.
FAQS
1. Can I upgrade my plan?
Yes, please contact our member support team for a special Coupon Code to upgrade your membership.
2. Do you offer refunds?
Yes, if you didn't purchase any items in 30 days, we can offer a 100% refund for you (no reason required). See Refund Policy
3. Are there any renewal fees?
Only the 1-Year membership comes with a renewal fee per year.
4. Is there any discount when renewing?
Yes, the Member Discount also works on renewal.
5. What payment methods do you accept?
You can use PayPal, or any Credit Card (by Stripe) with Visa, MasterCard, or Discover marks.
6. What is the difference between the 1-Year and Lifetime plans?
Please check the Plan Comparison for more details on how the plans differ from each other.
The 1-Year Plan is best suited for experienced hanfu lovers with a bigger Member Discount and exclusive benefits. If you want to get a permanent membership, the Lifetime Plan is the best deal.
7. What happens if I don't renew my plan after one year?
Your membership status will become inactive and you will not be able to continue to use all benefits of membership.
8. How do I renew my 1-Year Membership?
Just purchase a new Membership Plan, and the membership time will be automatically extended.
The Lifetime Plan is permanent, only one-time payment.
9. Why can't renew my membership automatically?
To comply with the privacy policies of each region of the world, we do not collect customers' payment security information actively.
So you will need to renew it manually, but don't worry, we will send a few emails to remind you before your membership expires.
10. How do I cancel my Membership?
Your membership will automatically become invalid after it expires. Or please contact us directly and we'll cancel and delete your account upon request.
11. Can I transfer my Membership to a client, colleague, or friend?
No. Membership is not transferable across accounts at this time.
If you have more questions, please Contact Us.