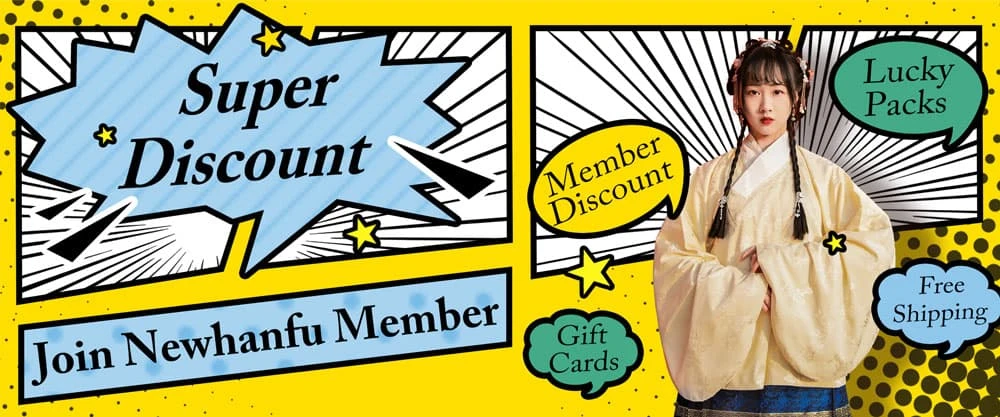 Cosplay is an exciting and growing phenomenon in the world of fantasy and xianxia. Fans dress up as their favorite wuxia characters, and it's a wonderful way to show off their love for these fictional characters. But if you want to take your cosplaying to the next level, you'll need to invest in some high-quality hanfu cosplay clothing. From the right wuxia cosplay dresses to the perfect xianxia cosplay costume, you're sure to find something that suits your style and personality.
Traditional Jin Dynasty Hanfu
Traditional Jin Dynasty dress is a very elegant and simple hanfu style. The design features thin, long, wide, and loose cuts. The pattern of the Jin dynasty clothing is very beautiful – landscape paintings or colorful flower prints. Jin Dynasty hanfu is free size, so it is suitable for all body sizes and all ages, and it's unisex, perfect for both men and women.
The classic Wei & Jin Dynasty hanfu dress is a must-have for every hanfu fan's wardrobe. It is easy to wear with a pair of high heels or sandals. It is a great retro dress for any occasion, from casual day-to-day wear to night parties.
Jin Dynasty Ruqun Hanfu Clothing
Jin dynasty Ruqun is a classic hanfu style, which was widely worn by Chinese women for over one thousand years. It's a long skirt, a loose shirt with a cross collar at the front. The style has a rich history, and it's still popular today.
Although the ruqun hanfu was invented before the Wei and Jin dynasties, the Jin dynasty ruqun style developed its own characteristics, using silky and flexible fabric, and gradient color dyeing, that's why it is also called fairy-like clothes; and had a great influence on the ruqun development of other periods.
Wei & Jin Style Cosplay Dress
Traditional wuxia xianxia cosplay dress, also called hanfu cosplay dress, is a kind of traditional Chinese dress for women and men. It was originally worn by male and female actors in ancient Chinese wuxia films. Now, it is also popular among cosplayers and fans of wuxia films. It is a sub-category of Chinese costume, which can be traced back to the Wei & Jin Dynasty. Yes, it has a very long history and a wide range of applications, and now Wei & Jin Dynasty hanfu dress is mainly used in the performance of the traditional wuxia play and movies.
The fantasy cosplay hanfu clothing is often based on famous fictional characters from ancient Chinese history and mythology. In the world of wuxia, the word "cosplay" means dressing up as a character from the wuxia genre. The costumes are usually designed by fans and costumers, and many people spend a lot of time and money to create their own costume.
If you are a fan of the Chinese classic novel, Journey to the West, The Three Kingdoms, then you may be interested in these awesome cosplay hanfu dresses. The outfit is a beautiful combination of the two genres – dream and reality. It is very comfortable and can be used as a costume or as a regular dress.