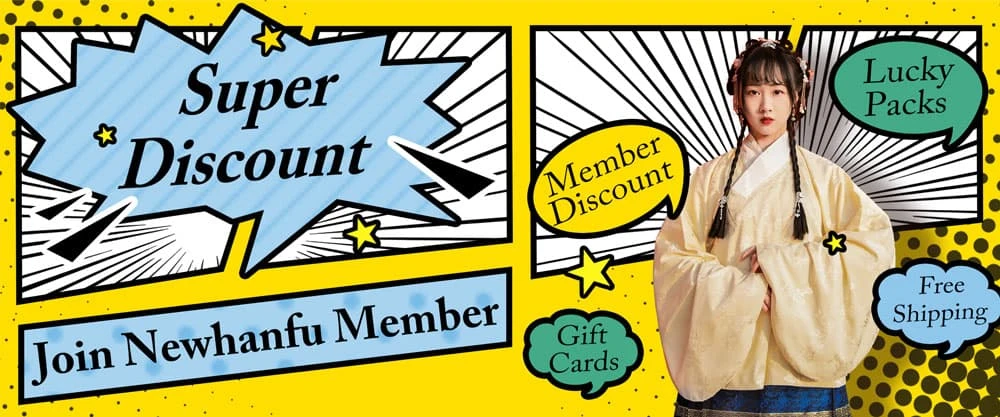 If it's within your budget, getting ready wedding hanfu dresses are a fun and thoughtful item to gift your next bridal party. On the big day, the time you spend with your bridesmaids getting ready for the wedding is something that you'll remember forever.
Everyone loves a personalized gift! Hanfu wedding dresses are the best sweet gifts. Do something extra for your bridal party and include an exquisite wedding hanfu robe, you could even incorporate nicknames if you want to do something more unique.
Traditional Hanfu Wedding Dress
The traditional hanfu wedding dress market has never been hotter and the demand for a beautiful dress to wear on the most important day of your life is huge. The top hanfu brands in the world are launching new hanfu wedding dresses every month, and every designer is offering a range of styles, cuts, and price points. From floor-length ballgowns to modern, statement-making silhouettes, your search for the right hanfu wedding dress is easier than ever. However, finding the perfect traditional Chinese wedding dress for you takes time and a little bit of research. This guide to the best classic China wedding dresses will walk you through the process and help you choose the dress that will bring out your best features and complement your shape.
How to Choose Hanfu Wedding Dress
What is the most important thing to keep in mind when searching for your fashion hanfu wedding dress? There is no exact answer to that question. However, in our view, this is what is really most important to keep in mind: Find a hanfu wedding dress that makes you feel beautiful and comfortable. Of course, you should also be aware of a lot of other things as well: Your budget and your personal preferences. What type of fashion hanfu wedding dress do you want? Would you like to choose a simple dress or a dress with embroidery? Do you prefer a strapless Chinese wedding dress or a halter neckline? Should you choose a dress with a short skirt or a dress with a longer skirt? Should you go for a gown with a high waist line or a gown with a low waist line? All of these questions and more will help you to find the perfect hanfu wedding dress.
We all know that online shopping is fast and easy but is it weird and risky to buy a hanfu wedding dress online? Definitely not! In fact, it's becoming increasingly popular. Buying a Chinese hanfu wedding dress online eliminates a lot of additional stress, You can enjoy the experience from the comfort of your own home and still have your friends and family involved in the process. What's more, many retailers want to be your one-stop-shop for all of your hanfu wedding outfit needs and have created online shops dedicated to all things bridal fashion. it incredibly easy to find a classic China hanfu wedding dress that suits your personal style, body type, and budget. Even better? With so many online retailers offering fast and easy shipping, you can expect to receive your dream hanfu wedding dress well before your wedding date.
Color of Hanfu Wedding Dress
White hanfu wedding dresses are the epitome of classic summer dressing. They're the kind of item of clothing that you throw on and your look is immediately sorted. So easy. So chic. A retro style hanfu wedding dress white color will always look good, it's sophisticated and effortless. Plus, it's a breeze to accessorise with too – everything goes with white, right?
A white hanfu wedding dress is a classic choice for any couple getting hitched. But if you're looking for something a little different for your own special day, here are a few ideas for making it unique. First of all, there are lots of different ways to choose a white hanfu wedding dress. With so many options, you're sure to find something that's perfect for you and your personality. And if you want a little more variety than just one, why not try out a hanfu wedding dress in white color with one of these lovely details? From a sparkly bodice to a stunning train, this selection of dresses has just about everything you could ever want. Let's take a closer look at some of the latest trends for white hanfu wedding dresses.
Red is a very common color for weddings and the red hanfu wedding dress is no exception. Every time you see a bride on the wedding circuit with a red hanfu dress on, you know it's going to be a special day for her. That red color brings the color to life and it's the kind of color that screams "I'm special." But red also carries a lot of weight, and if the bride isn't ready for that, then she may be heading for a divorce.
So let's see what you need to know about red hanfu wedding dresses, starting with the basic stuff. Red is a flattering color for all body shapes and ages, and it can look sexy on plus size women too, which makes it a popular choice for brides. Hanfu wedding dress red color can be worn by anyone, but it is particularly appropriate for brides on their wedding day. However, be careful when choosing a shade. Although it's a great idea to wear a red hanfu dress for your big day, it's not always easy to match red. So if you're planning to wear red, take your time to get the colors right. Find out what shades are flattering to your skin tone, whether you're looking for a full-blown red or a subtle hint.
Also, avoid dresses with lots of shiny or reflective beads. When in doubt, opt for a wedding dress with a solid red bottom, otherwise you'll end up with a wedding look that's a little too bridal for comfort. There are lots of Chinese red wedding dresses for every occasion. If you're looking for a more classic, understated look, then you might want to opt for a dress with a hint of red, such as a burgundy or rose red. For a more glamourous look, you can even wear a traditional hanfu wedding dress with a deep ruby red hue. For more subtle shades, opt for a dusty rose, cranberry or cherry red.