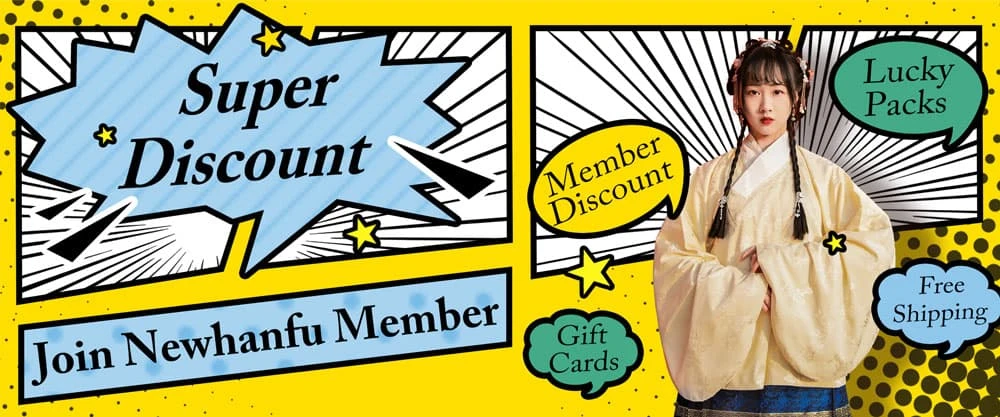 Hanfu jackets changshan often use soft chiffon fabric, they are comfortable, lightweight, and provide an elegant look. In different seasons you can choose from a variety of hanfu jackets in different colors, prints and patterns. You can also even team it up with a qixiong hanfu or songku pants to add a layer of sophistication to your look. Wear it casually with jeans or dress it up with a hanfu shirt for the office, whatever your style, a classic hanfu jacket is a versatile piece that can go with everything.
Hanfu Jacket Size
There are different ways to find out what size hanfu jacket you should wear. You can use the size tape to measure your chest and waist and then compare the measurements with the ones in the hanfu jacket sizes. You can also ask someone else to help you. If still don't know what size to choose, just ask the local department store or clothing store to give you some advice. From oversized to fitted, you'll be able to pair hanfu jacket with all types of hanfu bottoms including trousers, shorts, skirts and more.
Hanfu Jacket Tips
When it comes to finding the perfect formal hanfu jacket, there are no definite rules. However, most classic hanfu jackets are light blue or white. The most important thing is that it is not too long or too short. Also, make sure that the waistline is not too narrow either. Furthermore, a classic jacket should fit loose, which means that you won't have to tie it up to keep it secure. The next thing is choosing between a round or a stand-up collar. Round collars are more classic and more elegant, while stand-up collars make the look more modern and edgy.
Daxiushan Hanfu Jacket
Daxiushan jackets are ideal choices when it comes to formal dresses. There are two main reasons why: first, classic daxiushan jackets don't make your waist seem smaller than it is. They have a flattering silhouette, which means that they sit well on the body. Second, daxiushan jackets usually come in several shapes, colors, and fabrics. This means that you can find the perfect hanfu jacket for practically any formal occasion. That said, classic daxiushan jackets can make a woman look elegant, stylish, and timeless. When it comes to choosing the right daxiushan, it's good to remember that you'll need to complement your dress. So, if you decide to wear a knee-length hanfu dress, you won't want to wear a hanfu jacket that's too short. And if you want to wear a long-sleeved hanfu dress, your hanfu jacket will also need to be long-sleeved. If your choice is between a sleeveless or buttoned hanfu jacket, you can opt for the latter. However, for men's choice, you'll want to avoid jackets with a bow, buttons, or other similar fastenings.
What we recommend: As we've mentioned before, when it comes to a hanfu jacket, it's important to make sure that it fits the dress or pants. Therefore, try a few styles until you find one that suits you best.