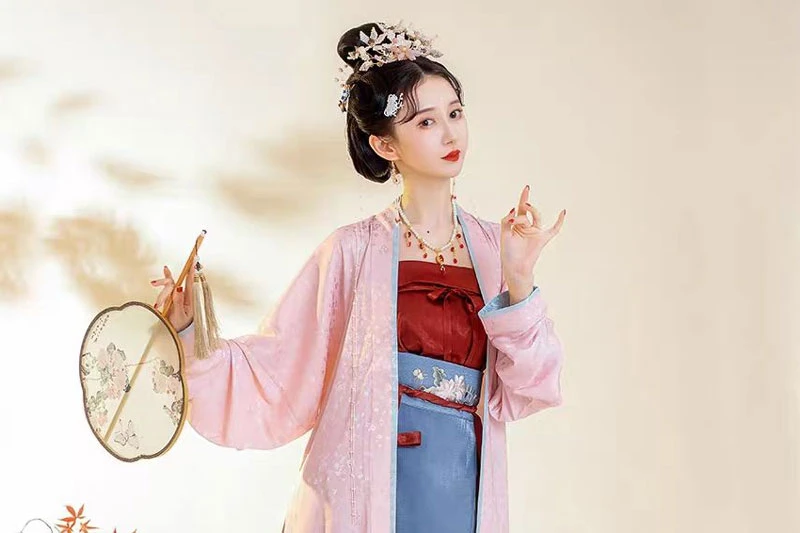 As most women opt for more minimalistic ensembles, the retro skirt offers them a way to still look stylish and feminine. However, the classic hanfu skirt isn't only about looking elegant and comfortable. It can also reflect a woman's personality. Take a look at our suggestions below, and find the one that you think suits your individual style.
And fashion versions of hanfu skirts are a great way to expand your favorite wardrobe's collection. They also come in many different cuts and styles, so there is a modern hanfu skirt for everyone! Whether you're a fan of the vintage look or love the modern shape, you'll find the right hanfu skirt for you in our selection.
Traditional hanfu skirts come in many different styles, but the two most popular hanfu skirt patterns are the Qiyao skirt and the Mamian skirt.
Qiyao Hanfu Skirt
Qiyao hanfu skirts are incredibly versatile, as you can easily pair them with modern and minimalist shoes and accessories. Ruqun skirts also make you look super cute, even when you're dressing up for work. Qiyao ruqun is a very simple, easy-to-wear but classic style – a great option for a special occasion or every day, this is why many women would like to buy a lot of different colors.
Qiyao hanfu skirt is a classic style that never goes out of style. The classic silhouette and wide waistband make this skirt a must-have for any wardrobe. If you are first time looking for a trendy hanfu skirt that will make you look good, the Qiyao skirt is no doubt the best choice.
Mamian Hanfu Skirt
Mamian Qun or Horse Face Pattern Skirt is an elegant hanfu skirt design for women. It will be a stunning look on you with gold color and white red dragon and phoenix embroidery. The fashion pattern hanfu skirt is a new way to define a retro style. These skirts are basically a modern take on the Ming or Song dynasty dress. This silhouette goes perfectly well with a modern and minimalist wardrobe.
In fact, Mamian hanfu skirts are extremely flattering for almost everyone. Here are some of the most effective ways to wear the retro hanfu skirt for all occasions. Pairing the Mamian skirt with a matching or contrasting top, a pair of sandals, or even a daxiushan hanfu jacket is just one of the many ways you can express your individuality through your outfit. It always has a high-quality fabric, so it fits perfectly and makes you look like a supermodel.
Mini Hanfu Skirt
The newest fashion trend is the mini hanfu skirt. It's a short skirt that has been updated to be more modern, but still retains the retro style of the original hanfu skirt. This mini skirt is available in a variety of colors and styles that are a great choice for any occasion because it is cute, stylish, and comfortable.
A short hanfu skirt is an excellent choice for every young girl who wants to look fashionable, but not overdressed. You can wear these skirts to school, to parties, and even to date!