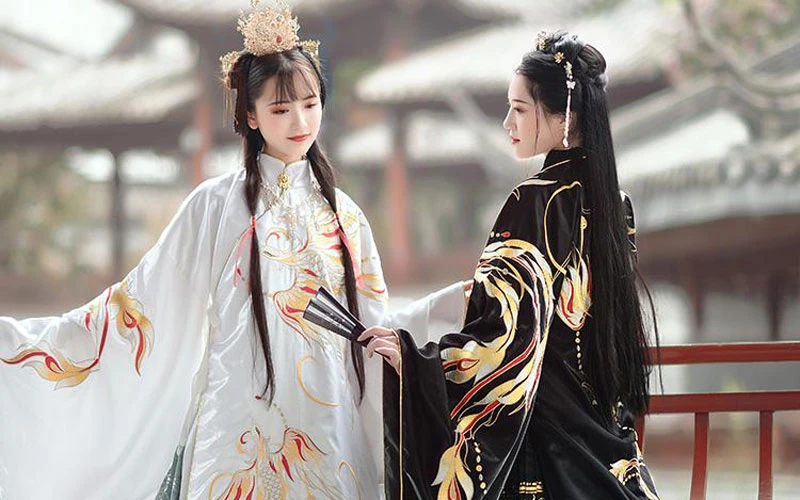 From your everyday look to a formal ensemble, Newhanfu has the best black hanfu costumes to meet your style needs.
Black is a popular hanfu color that can be worn by almost anyone. Whether you like it or not, black is a trend that you simply cannot avoid. From the hanfu shirt to the hanfu skirt, there are so many ways to wear a black hanfu outfit, and you can easily choose a good combination.
Customer Reviews
Black can be a good choice for a lot of occasions. From the traditional black Mamian skirt to the fashion Songku pants, black is a classic color that never goes out of style. Why? It's simple, black hanfu dresses are still going to look great on any body type, and dress up black hanfu with your daily clothing that is versatile enough to work and casual. Also, black and red hanfu, or black and white hanfu is very popular, they are good choices for party and nightclub. – Linda Kasper
A few years ago, I was invited to Shanghai to attend a Dunhuang Hanfu Show. It was a fantastic experience that so many hanfu models with black hanfu dresses look like the goddess in the mural. I thought to myself, "Wow, black is really in right now!" No doubt, a black hanfu dress is a great way to dress up your secret look, it doesn't matter if you are a businessman or a housewife. Black hanfu is a symbol of elegance and sophistication. – Arkio Denton
The wuxia style black hanfu dress is the trend of the season. It is a simple and vintage outfit, that can be combined with many modern hanfu styles to create an elegant and fantasy look. That's why black is one of the most powerful colors in wuxia hanfu fashion. Wuxia Male Black hanfu dresses, coats, and shoes have been around for centuries.
Black hanfu dress is an excellent choice for wuxia cosplay. If you're looking for a black hanfu costume that stands out, then you need to check out these cosplay-style black hanfu dresses. From the new wave of vintage inspired hanfu clothing, to the modern and trendy jacket with bold prints, to the elegant and classy gowns, there is a black hanfu dress for your next cosplay.
Black Hanfu Tips
Black hanfu costume is a special color. It is not only a beautiful dark color, but it can also bring out the best of you. But what kind of black and dark hanfu dress can make you feel more confident and beautiful? Let's find out.
Black hanfu dresses are versatile, flattering and easy to style. You can wear a black hanfu skirt to work or female black hanfu maxi out for an evening. They come in different cuts, styles, shapes, and sizes, so it's easy to find a black hanfu that suits your body type.
Black hanfu can be worn for a variety of events, from formal dinners to a night out with the girls. There's no reason to limit yourself to just one type of black hanfu. You can mix and match different styles to create a new look that you never thought possible.
If you're looking for a great traditional or fashion black hanfu outfit for an upcoming event, here are 10 shopping tips to help you pick the perfect one.
Black Hanfu FAQs
1. What does Black Hanfu clothing mean in China?
Black hanfu clothing means the highest class and power. Black hanfu, Black and Gold Hanfu, Black and Red Hanfu, all are traditional Chinese formal dresses in the ancient.
2. How to Wash Black Hanfu?
Hand Wash and Don't wash with other colors' clothes
3. Can I wear Black Hanfu for what occasion?
Formal events, party, cosplay, wedding, and everyday wear.
4. Can a foreigner wear Black Hanfu?
Sure, everyone could wear black and any other color hanfu dress.
5. Is Black Hanfu Unisex?
Yes, both male and female, as well as kids could wear black hanfu or other dark hanfu outfit.