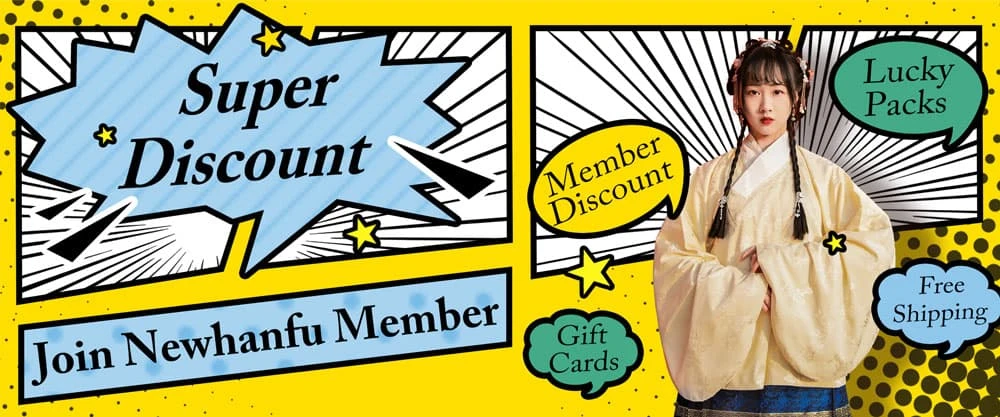 When it comes to buying an elegant Ming dynasty hanfu dress for a special occasion, there are many options to choose from. But, what if you want to get a stylish dress without spending a fortune? There are many different types of Ming dynasty hanfu dress that we can wear, and each one has its own style.
The purpose of traditional Ming Dynasty Chinese dress is to show respect for the past and the culture of China. It's meant to be worn for special occasions, such as weddings, festivals, and important events like graduations. For example, a hanfu jacket with high neckline and a hanfu Mamian skirt with high hemline is considered a timeless formal dress.
Ming Dynasty Changshan Hanfu
Ming dynasty hanfu Changshan is also known as the Hanfu jacket. Classic women's hanfu jackets have been a part of fashion for decades, but the designs we're seeing today are far from the classic Changshan styles we've come to know and love. We're seeing bold, colorful patterns and a variety of silhouettes that are making the Ming-style hanfu jackets more casual and stylish than ever before.
The classic "Changshan Hanfu" has become a favorite among fashionistas of all ages. This summer, the trend continues with this stylish hanfu jacket that is perfect for those who want to make a statement.
Ming Dynasty Hanfu Robe
Good news, the Ming dynasty hanfu has many robes are designed for men. Yuanlingpao and Feiyufu robes are super popular for many years. The latest one-piece Feiyufu hanfu robe is the perfect choice for every boy who wants to look handsome and cosplay as a wuxia swordsman kungfu master. Ming dynasty Feiyufu robe is made of high-quality satin, cotton, and linen materials, which makes it very cool and durable.
Yuanlingpao hanfu robe is for casual, you can wear it at home and on weekends. It has a nice design, and its shape is wide and loose, a little bit like a nightgown or sleeping robe. But it's not only for casual, some yuanlingpao has high-end embroidery and print patterns that are worn as formal hanfu dress.
In winter, the classic Changao style of a hanfu coat has been revived by the designers and fashionistas. We have selected some of the best Aoqun hanfu coats available in the market today. Whether it's a casual winter stroll or a chic evening out, there's a stylish hanfu Ao coat for every woman. From vintage-inspired looks to modern day basics, we've rounded up our favorite Ming dynasty hanfu Changao coats for every occasion.
Ming Dynasty Mamian Hanfu
When you're shopping for a new hanfu skirt, you want to find something that's not only stylish but also elegant. Mamian hanfu skirts are a must-have item for every woman's wardrobe. They come in a wide variety of styles and cuts and can be worn in a variety of ways.
Whether it's a party or a special occasion, when you want to look your best, a weaving gold fabric Mamianqun hanfu is a great choice. Horse-face skirts were worn with high-heeled boots and a Ming dynasty hanfu jacket. In the last few years, fashion styles Ming dynasty hanfu set has become more popular among women than ever before.