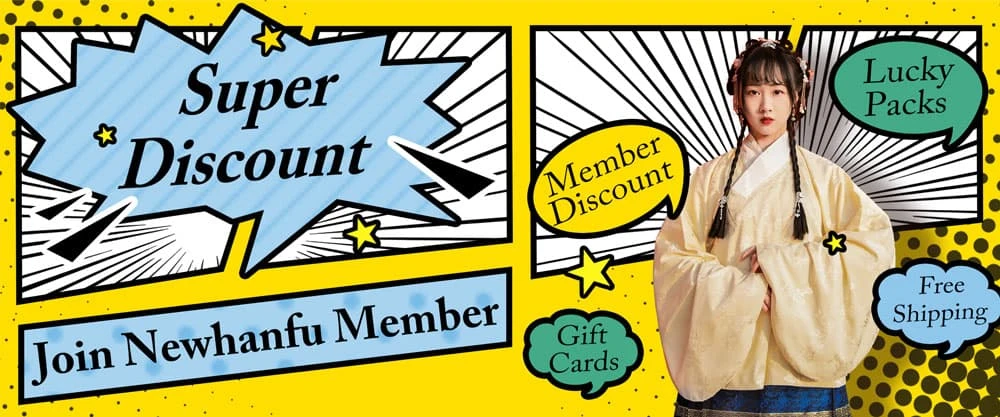 Newhanfu membership is designed to help you save money by letting you get more brand new hanfu clothing in a friendly, affordable online store. If you're a fashionista, you'll love shopping on Newhanfu. Not only does the site offer great deals on hanfu clothing, shoes, accessories, and traditional makeup items, but it also offers big discounts and free shipping for all members.
A simple list of our member's benefits:
Extra Member Discount on all products
Only $39 to get a surprise Hanfu Lucky Pack
Enjoy Additional Free Shipping Method
Free Trial on Our New Arrivals
Receive big Gift Cards on festival holiday
See more Members Only Products
Get free Gift Pack with beautiful accessories
Upgrade to Pro Affiliate Program
Premium Support
and more benefits in the future…
As a member of the Newhanfu Store, you get access to a wide range of exclusive benefits that will help you get a better shopping experience. We provide you with the latest hanfu trends and style tips, and find the perfect fit for your body type. Besides, if you have any further questions, such as how to wear and care for your dress, just call our customer service, we offer a complete Hanfu knowledge and guide, and all of your questions will get a quick response.
We have a new membership benefit that we're offering to all members. It's called "Pro Affiliate Program" and it gives you access to the biggest hanfu market network in the world. If you're looking for a way to earn money while wearing your beautiful hanfu dress, then this is it! We're offering a unique opportunity for you to earn $10-$50+ per commission by your referred sale. You can join our community of over 5,000 people who are already earning $2,500+ per month, all while living their dream from the comfort of their own homes. This is a limited time offer, so don't miss out. Join today to get started!