Hanfu dresses are the traditional clothing of the Han Dynasty of people of China. This dress has been in existence for over 5000 years now. It is known for its simplicity, elegance, culture and functionality. When you think of a vintage hanfu dress, you would always imagine it to be a three-piece set – a jacket, shirt, and bottom (skirt or pants).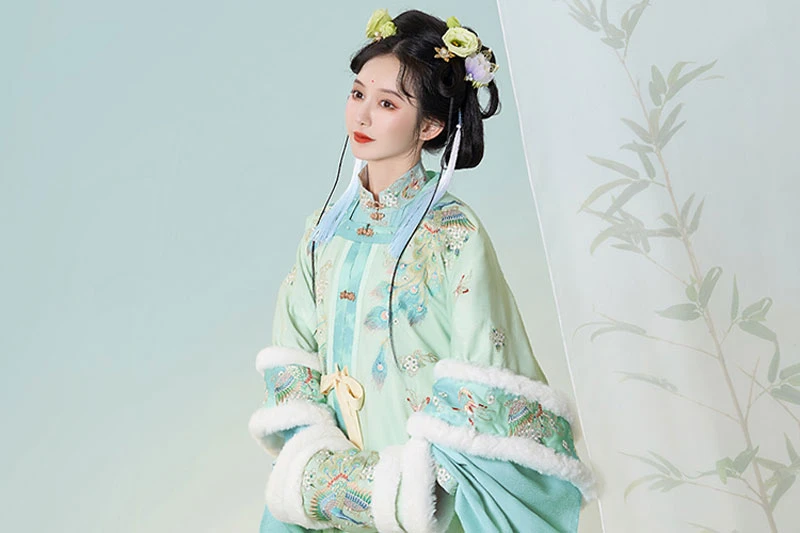 While your imagination is correct, there is more to Hanfu clothing than these three pieces. It is important to know about some of the important Hanfu clothing styles and their traditional names to be better informed when you set out for buying Hanfu clothes.
What are the most common types of Hanfu clothing you should know about?
The eight most common types of Hanfu clothing you should know about when buying this type of costume are:
Shirt (regional names – Ru shan, Banbi)
Jacket (Daxiu shan, Chang shan)
Coat (Cloak coat, Aoqun coat)
Pants (Songku, Kuaku)
Skirt (Mamian qun, Qiyao qun)
Dress (Quju, Qixiong qun)
Robe (Daopao, Feiyufu)
Underwear (Zhongyi, camisole)
Do the terms, Qipao and Hanfu refer to the same type of clothing?
Many believe that the Qipao and Hanfu refer to the same thing, as both are names given to the Chinese mandarin. However, this is not true. While the Qipao refers to the perfectly-fitting or tight-fitting Cheongsam style of clothes, the Hanfu is a loose-fitting dress that has been in trend for more than several dynasties. The Hanfu dresses are known for their big sleeves, flowing robes, twirling skirts, and more. Hanfu dresses are never tight on your body.
A simple Hanfu top and bottom (skirt or trousers) can look like a totally different dress when you pair the outfit with a good jacket. Choosing Hanfu jackets can be quite challenging because you have to choose the right fabric during the right seasons.
Listed below are some of the beautiful Hanfu Jackets that you will find in the market today. Check them, and choose the size that is right for you. While you can wear a Hanfu dress without a jacket during summers, a jacket or coat becomes mandatory during the harsh winters.
1. Colorful Casual Hanfu Jacket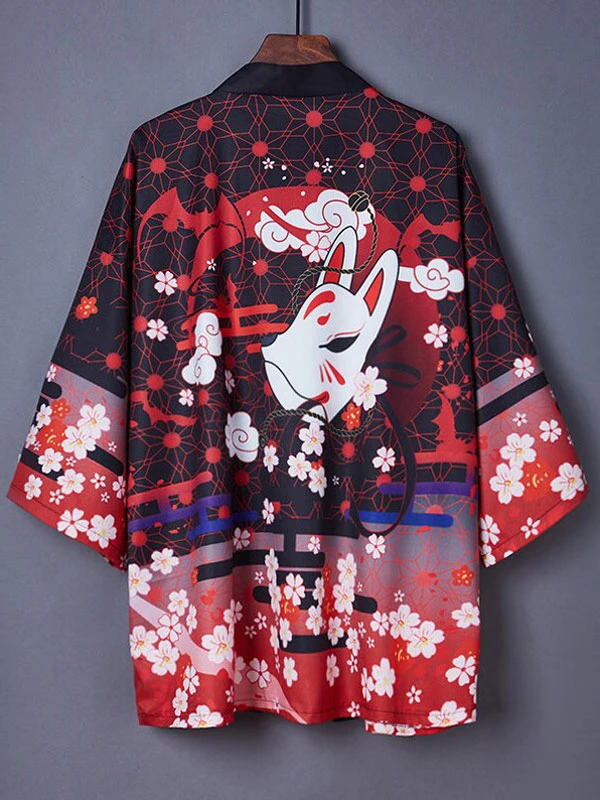 Are you bored of wearing the same style of Hanfu jackets when you dress up traditionally for Chinese festivals, costume parties, and other cosplay events? Well, here is some respite for you! This colorful Yukata is a perfect accompaniment to contradict the traditional Hanfu costume that you wear.
It is a handmade polyester jacket, which hugs you like a second skin. The highly attractive and unique, murderous print on this yukata is something that you will not be able to forget for a long time. It is available in two variations, presently. In the first variation, you will have a white print of the traditional Chinese cat on the black & red hanfu jacket and floral patterns all over. In the second variation, you will find a different print of the fox's face with floral prints around it.
2. Winter Hanfu Jacket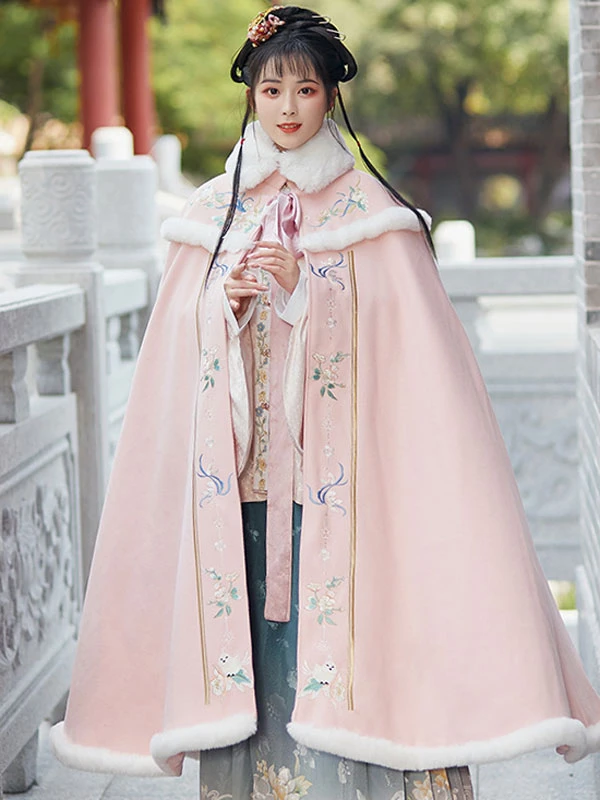 This long, cloak-style Hanfu jacket is something that you would like to consider wearing in winter. It has a cape as well and stretches well beyond your knees. It is a handmade jacket and has traditional Chinese elements intricately embroidered along the corners, giving it a rich & elegant look.
You can get this winter hanfu jacket in four colors –white, pink, green and red. It comes in a standard length of 110cm; however, there could be a minor difference of 2 to 4cm when you actually measure this jacket upon receiving.
3. Mandarin Collar Hanfu Jacket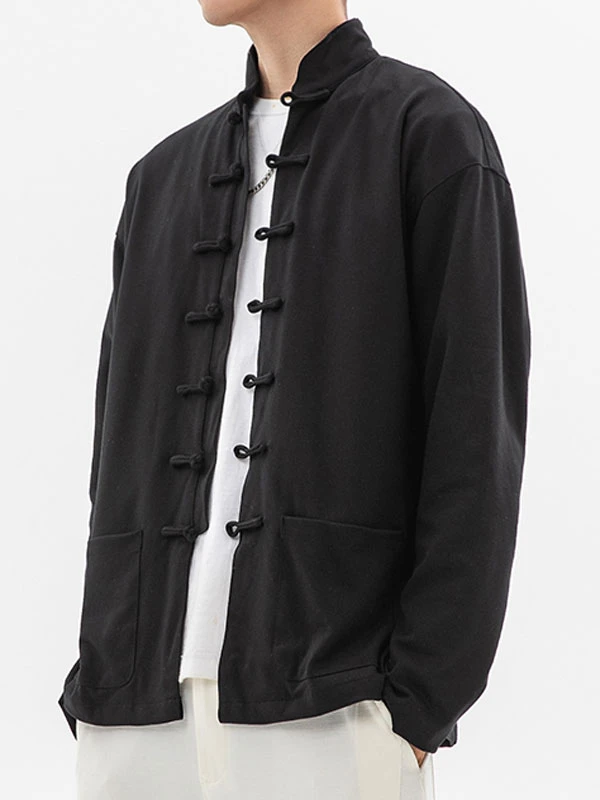 Made from a blend of cotton and linen, this Hanfu jacket is one that you would love wearing to formal occasions. The mandarin style jacket has a cotton hanfu layer inside, which makes it suitable to be worn during any time of the year. It comes in three colors – red, blue and black.
You might want to note that this jacket is loose design and is available in one standard size only right now. It has a shoulder and sleeve length of 66cm, chest length of 126cm, and a total length of 90cm. So, please get this only if you think it would fit you perfectly.
4. Elegant Hanfu Jacket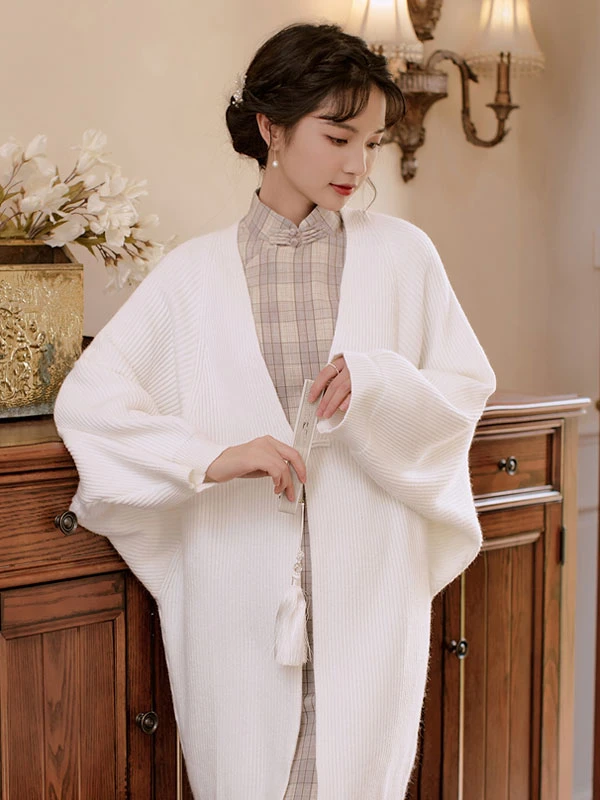 Do you want your Hanfu jacket to represent all the traditional elements of the Tang dynasty of China? Look no further than this linen jacket, in that case. This one comes in three beautiful shades – white, green, yellow, and orange. Irrespective of the color you choose, it is enough to brighten up your entire Hanfu dress.
This jacket is made from 20% linen ramie and 80% cotton It is free size, with 74cm of shoulder & sleeve length, 162cm of bust length, and 76cm of total length. Since it is made from soft materials, it is highly recommended that you wash this jacket by hand only.
5. Oversized Long Cardigan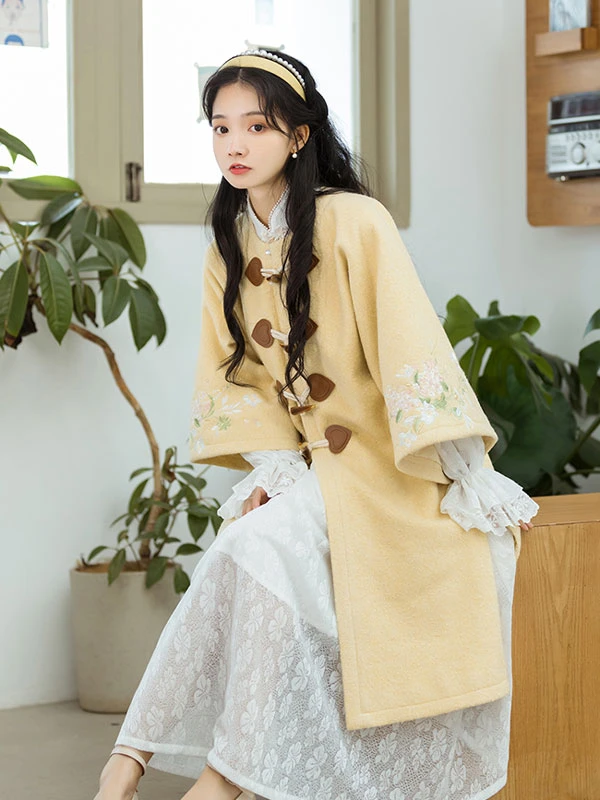 There is something about a stylish cardigan that is hard to miss, isn't it? Would you love your Hanfu jacket to be in the style of a cardigan? We have got you covered. This creamy yellow Hanfu jacket is just what you would want during the winters.
This long, knitted hanfu cardigan is currently available in sizes S, M and L, the small one with a total length of 110cm, bust length of 158cm and a shoulder length of 78cm. While the style of the cardigan itself is quite elegant, the floral embroidery makes it look more beautiful than it already is.
Conclusion
As you can see, Hanfu jackets are of different types, designed to be worn on different occasions and in different seasons. After going through this list, we are sure you have identified your style of Hanfu dressing. So, come what may, you are all set with your beautiful jackets to dress up for any occasion, at any time of the year!