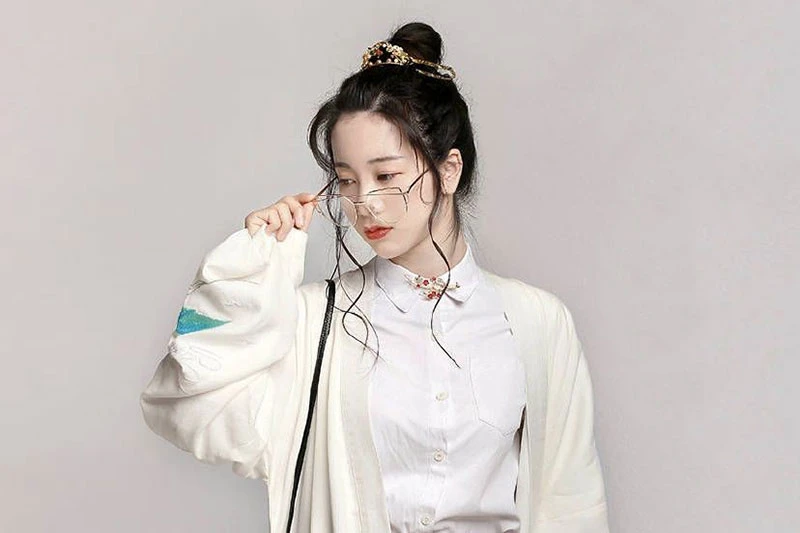 Cotton is a natural fiber that comes from the seeds of the cotton plant. It is one of the oldest and most widely used natural fibers in the world. Cotton fabric has been used as hanfu clothing material for a long history, and is very comfortable, durable and breathable.
Cotton fiber is different from synthetic fibers. There are a lot of benefits of using cotton fiber clothing instead of other types of clothing materials. Each has its own unique properties that make it suitable for different purposes. The first benefit of cotton is soft and smooth. And it can be worn in hot or cold weather and doesn't stretch, shrink, wrinkle, or fade easily. Cotton fabric is also biodegradable, many people say that cotton is the most widely used natural fiber in the world.
Why choose cotton hanfu?
Cotton hanfu clothes are a perfect option for women who want to look comfortable and stylish at the same time. They're also a great choice for those men who want to dress up but don't want to look like a cosplay costume. The best thing about cotton fabrics is that they can be worn in any season or occasion.
The casual cotton hanfu dress is a very versatile garment. It can be worn with a variety of modern outfits and is a great piece to have in your wardrobe. Cotton hanfu is perfect for many occasions. For example, it can be worn with jeans and a sweater for an easy day look or with a skirt and blouse for a more formal day.
Cotton hanfu outfits are great for those who want to look cute without having to worry about what to wear. Whether you're looking for a casual cotton dress or an elegant cotton jacket that will make you stand out, here's a list of the best cotton hanfu that you can get online.
How to find a perfect cotton hanfu for you?
There are many types of hanfu, but when it comes to the cotton material, there are only a few hanfu styles. Now, we're going to show you how to choose a cotton hanfu in order to help you find the right style that you like.
Many people like to wear cotton because it is a breathable fabric and does not cling to your body. However, choosing the right cotton hanfu is not as easy as it seems. You have to consider your lifestyle, your budget, and your personal preferences.
For women, the Jin dynasty style ruqun hanfu is a great choice. This is the classic daily female hanfu style that you can often see in historical Chinese drama or movies. This is a minimalist style hanfu, available in several solid colors or with a few flower and landscape prints, perfect for a casual weekend at home.
And for men, 2-piece qiyao hanfu is a better choice, this set includes a short sleeve T-shirt and classic hanfu pants or a wrap skirt. This design is to help the body can move freely, you can even wear it directly to the gym, to sports, or to travel. If you want something that will be easy to wear, and can easily accessorize, then this is the best hanfu that can easily take off and put on again, without any hassle.
But if you're not sure about the shape of your body, you may want to go with something in a straight-cut silhouette. A fitted daopao robe will hug your figure. This style will also accentuate your curves. Choose a daopao that fits snugly around your waist and hips, but allows for some ease at the chest area and sleeves, and the material on the inside of the robe should be soft and smooth.
In conclusion, it's important to know that a hanfu is not only a form of clothing that you wear to work or to a party. It's a piece of clothing that you wear to express yourself. This is why you should be careful with the kind of traditional dress you buy. For example, if you want to wear a hanfu dress to an event, it's important that you pick the right one. It should be the right fit, color, and style. If you have a bad experience wearing a hanfu dress, then it's likely that you won't wear it again. So, if you're looking for a cotton hanfu, it's important that you know what you want before you make a purchase.