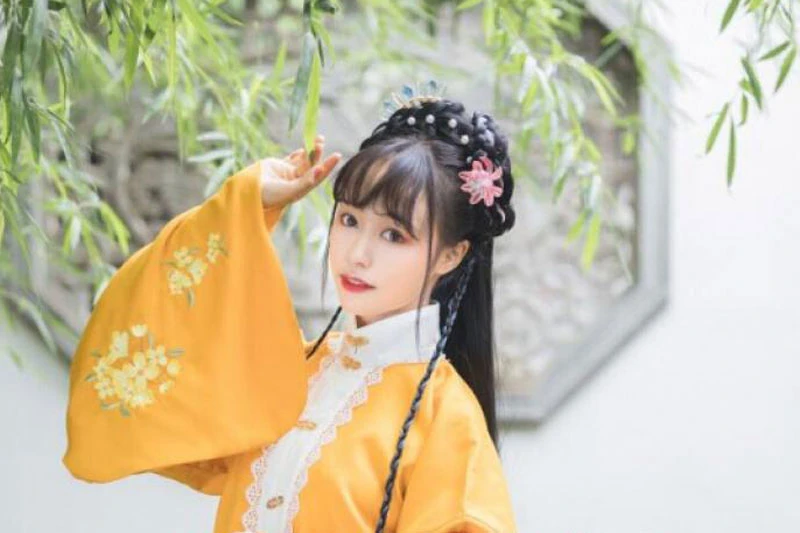 Yellow hanfu is associated with happiness, sunshine and warmth, a very cheerful color that can be worn with any outfit to make you feel energetic. But do you know why? It's because yellow has been shown to help increase dopamine levels in the brain. This makes us feel happier and more positive about ourselves.
Reviews
I love wearing a yellow dress since high school. It's easy to find a yellow hanfu dress that fits and flatters my figure. I can wear it with black or white embroidery shoes and a red or blue hanfu jacket and look great. My yellow qiyao ruqun skirt is comfortable and flattering, I wore it with my golden sneaker to school, to my friend's parties, and even to weddings, and every time I would receive tons of compliments. – YiYi Helen
I've been wearing my Song-style yellow hanfu pants for the past two years, and I'm really happy with them. This songku is comfortable, stylish, and fits perfectly. I wear it to work, to the grocery store, to parties, and everywhere else. It's a casual, everyday trousers that I wear to do errands around town, or even for an evening out with friends. And I have a yellow ruqun T-shirt that I'd take it every time go on a trip. – Pugarson Borg
I was in the process of planning my wedding photograph when I found out that my husband had no idea about what to wear. He was very stressed out about it, so I decided to go to the hanfu store and get a few things to help him decide. I ended up getting a white wedding hanfu dress for myself, and a yellow hanfu robe for my him. The hanfu shopkeeper said that yellow and gold was the exclusive color of ancient Chinese royalty, representing the highest social status. Everything went well on the shoot and he will now even wear the hanfu again on weekends. – Jia Zhou
When I was in my early 20s, I was a bit of a tomboy. I wore jeans and a T-shirt nearly every day, and I didn't think twice about it. It wasn't until I got into my late 20s that I started to feel more comfortable in dresses and skirts. I remember feeling a bit awkward when I first tried on a yellow dress for the first time. But once I put it on, I couldn't take it off! So, I bought myself a few more modern hanfu dresses and skirts and started wearing them more often. I loved how they made me feel, and I started to notice that people were noticing me more in dresses and skirts too. – Baskin ES
Yellow Hanfu Tips
A casual yellow or beige hanfu dress is a great way to show off your best summer style and make a statement about your personal style. Like the traditional Tang dynasty ruqun dress, it's a simple, fun, and versatile dress that can be worn with modern leggings, jeans, and other items in your wardrobe.
A lot of people have a hard time finding the perfect yellow hanfu dress. But you don't have to worry about that anymore! You can choose a more subtle shade of yellow or even a more classic color. Either way, you'll be sure to find the right color for you.
What's your favorite color? Do you like the color yellow gold or beige? If you answered yes, then you might be a fan of the color yellow. The color of the dress you wear can have a huge impact on how others perceive you. Yellow is a bright color that makes people feel happy and optimistic.
We've created a list of most hanfu buyers' favorite yellow hanfu clothing for women and men. We wanted to share the best look with you because we believe you'll like it too! So, go ahead and check out the list now!
Yellow Hanfu FAQs
1. Can I wear Yellow Hanfu for what occasion?
Yellow hanfu dresses can be worn for almost any occasion, for example, casual wear, sports, trips, and wedding.
2. How to Wash Yellow Hanfu?
Hand Wash and please don't wash light yellow hanfu with other dark color clothes.
3. What's the Gold Yellow Hanfu Meaning?
Yellow hanfu dress means sunshine, summer, warning, and gold means luxury and royalty.
4. Is Yellow Hanfu Unisex?
Yes, both men and women, as well as kids could wear yellow hanfu clothing.
5. What colors can I wear with Yellow Hanfu?
Yellow and white hanfu, yellow and orange hanfu, yellow and blue hanfu, these colors combination are the best seller in the past year.