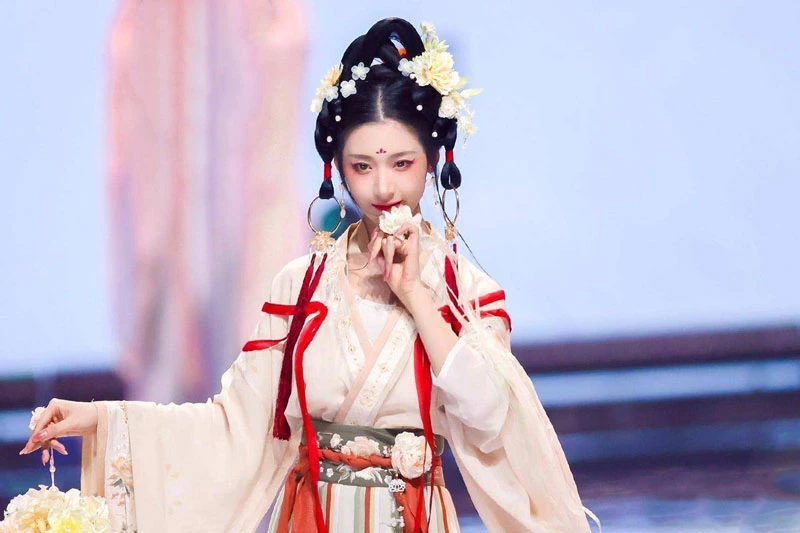 Pink is the symbol of love, cute, youth, romance and femininity; whether in east or west, sweet pink is one of the most popular colors for girl's clothing and accessories. Pink hanfu dress can bring a smile to everyone's face, has a warm, welcoming feel to other people.
Customer Reviews
For years, I have been in search of a cute hanfu pink that I could wear to work. It was a long journey but finally, I found a ruqun dress that I absolutely loved. It was so simple, yet so elegant and beautiful; if you're like me, you probably feel the same way about pink. This lovely pink dress will forever be one of my favorite hanfu that I have ever worn. I love wearing a pink dress because it makes me feel happy, and it's just the best color that I could feel comfortable in. – Nichole GaGa
I love pink dresses – they're the epitome of femininity. Cute pink clothing is the perfect complement to any woman's wardrobe and a great way to brighten up your day. When I was a kid, I would walk around the neighborhood wearing a pink dress and tights. Not only that, I'd go to the park in pink shorts, and play in the sandbox. And I'm pretty sure I had a crush on a boy named "Pink Batman" in middle school. Luckily, now I have a pink hanfu and I can even wear it to work. – Summer Janey
The girls love pink dresses, it's a fact. And with the new season of fashion, the pink hanfu has been on a constant rise. From clothing to accessories, there are a wide variety of pink items available for sale. If you want to look mature while shopping, then you should choose the right hanfu style for your outfit. I would definitely recommend the pink qiyao ruqun, it will help you look sexy lady and not like a little girl. – Cote Miga
Pink is the perfect color to celebrate Valentine's Day. I bought a pink and purple hanfu, and a pink black hanfu for my boyfriend, then we had one of the most fun dates of our lives at Universal Studios. If your lover also likes wuxia or martial arts culture, you can cosplay an immortal couple together which is an amazing experience and memory. Now, we will often wear Hanfu clothing to vacation and travel. – Bela July.
Pink Hanfu Tips
We all know pink is a popular color that can be seen everywhere, but there are so many different types of hanfu dress to wear, and do you know how to get the suitable hanfu style for yourself? Pink and white hanfu set, pink hanfu shirt, pink hanfu skirt, which one is the better choice?
A lot of people think that pink is a girl's exclusive color. But in fact, pink hanfu isn't just for kids. It's also a great color for men and women. Pink hanfu has been worn by many famous women throughout history, including Liu Yifei, Zhang Ziyi, and Zhao Liying. Make sure that you are comfortable with the cut, style, and fabric of the hanfu dress before you buy.
Pink is hard to resist, is a positive color that makes you feel happy and excited. You can't help but smile when you see a pink dress, right? That's why we decided to write this guide about how to choose cute pink hanfu dresses.
There are many reasons why women choose this color as their favorite. The most common reason is that pink is a touching love. We'll be showing you the best way to go about choosing a comfortable pink hanfu that will make you look great while also making your day a little more fun.
Pink Hanfu FAQs
1. Can I wear Pink Hanfu for what occasion?
Pink hanfu dresses can be worn for almost any occasion, school, office party and wedding.
2. How to Wash Pink Hanfu?
Hand Wash and please don't wash light pink hanfu with other dark color clothes.
3. What's the Pink Hanfu Meaning?
Pink hanfu is meaning the love, cute, sexy and happiness.
4. Pink Hanfu can be worn with other colors?
Yes. Now more pink hanfu outfit is also associated with a number of other colors like red, rose pink, orange, yellow, lavender, blue, purple, and violet.