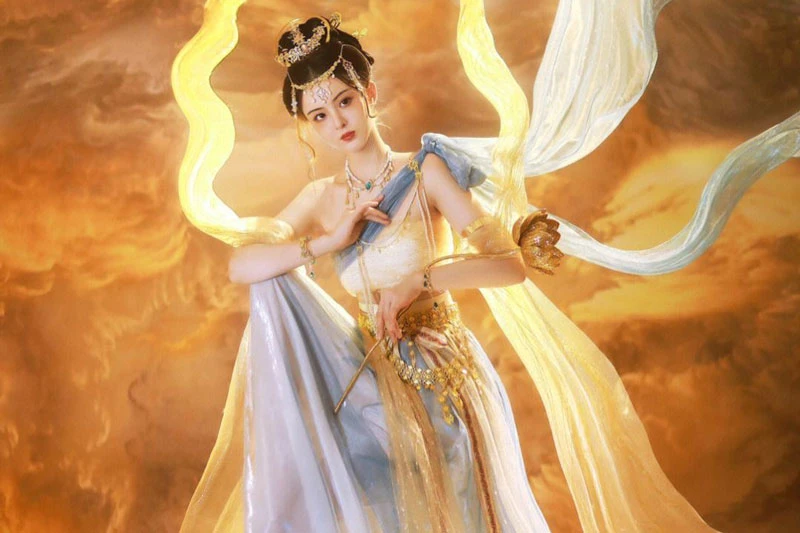 Timeless Beauty – Dunhuang Inspired Hanfu Dresses
Our new collection of intricately crafted hanfu dresses draws inspiration from the artistic beauty of Dunhuang. These gowns revitalize quintessential details and aesthetics from the Dunhuang murals to create hanfu fashion that feels delicately historic yet refreshingly modern.
For over 1500 years, the awe-inspiring Buddhist art of the Mogao Grottoes in Dunhuang captured the heights of Chinese civilization. Our dress designs pay tribute to Dunhuang's treasures by infusing hanfu with its timeless motifs, colors and essence.
Each piece is carefully crafted using premium natural fabrics decorated with hand-painted artwork and traditional techniques. Slip into one of these Dunhuang inspired hanfu gowns to channel the artistic sophistication of China's golden ages.
Vibrant pigments on Flowing Silhouettes
The hanfu silhouette stays true to tradition with its distinctive flowing robes, wide sleeves, crossover lapel and open side slits. Made from lightweight chiffon, the dresses have an ethereal, graceful drape.
Vibrant mineral pigments hand-painted in Dunhuang stylistic motifs vividly accentuate the gowns. Stylized peonies, lotus flowers, grapes, birds and gardens decorate the skirts and sleeves in colorful splendor.
Some designs accurately reproduce intricate Dunhuang artwork patterns along the cuffs and hems. Others reimagine Dunhuang elements in contemporary configurations bursting with life. Each dress is a unique work of wearable art.
Heavenly Cloud Motifs
Inspired by the whimsical "heavenly clouds" that drift across Dunhuang murals symbolizing paradise, light and playful cloud motifs dance across our hanfu dresses.
Named the Yunjian series, these dreamlike dresses feature misty gradients, swirling embroidered designs, and free-spirited colors replicating the ethereal beauty of cloud patterns.
Billowing chiffon sleeves and flowing silhouettes emphasize the cloud motifs, while tiny glittering mirrors and beads across the gowns mimic heavenly dew drops. Channel the mystique of Dunhuang's paradise in these dresses.
Reinventing Cultural Icons
Classic Chinese cultural icons from Dunhuang art are artistically reinvented in unexpected ways across the collection.
A flock of auspicious parrots soaring through a sea of flowers. Lotus blooms blossoming across a robe hemline, abstracted into a gorgeously graphic print. A majestic phoenix motif digitally rendered in sleek high-contrast embroidery.
By revamping Dunhuang's most iconic imagery with modern techniques, the reinvented motifs feel at once nostalgic yet forward-thinking. The dresses let you connect with cultural heritage through a contemporary lens.
Myriad Auspicious Symbols
Beyond floral and cloud designs, the collection incorporates myriads of propitious Dunhuang symbols to channel blessing and fortune.
Eight Daoist Trigrams subtly shimmer on gown backs, signifying harmonious balance. Bountiful pomegranates echo wishes for fertility and prosperity. Darlings of immortality like cranes and deers adorn sleeves as marks of longevity.
Meaning and beauty intertwine in each dress, conveying Dunhuang's spiritual essence through artistic details. Wearing these thoughtfully crafted hanfu gowns inspires a profound cultural connection.
Premium Natural Fabrics
Only the most luxurious natural fabrics like fine silk gauze and brocade befit recreating Dunhuang's elegance. Every material was chosen for its opulence, durability and ability to channel ancient splendor in a contemporary way.
Shimmering silk gauze offers featherlight comfort with an enchanting luster. Jacquard silks feature ornate textures referencing Buddhist tapestries. Iridescent brocades sway with regal grace.
For special occasion outfits, precious silk satins, chiffon and crepe de chine flatter the form without constricting movement. Every sumptuous fabric complements the artistic details.
Traditions and Innovation in Harmony
Our designers painstakingly balance historical integrity with modern aesthetics in this hanfu collection. Original Dunhuang motifs are accurately resurrected through hand-painting and embroidery. At the same time, contemporary techniques like digital printing and 3D floral embellishments upgrade the dresses with today's possibilities.
The result is a harmonious fusion — reinventing cultural touchstones with an avant-garde edge. Timeless beauty and innovative artistry coalesce in hanfu fashion that honors the past while looking to the future.
Let these Dunhuang style dresses transport you through time, weaving heritage into the present moment. Their artisanal craftsmanship ensures each piece will be treasured for generations.
Beyond preserving cultural memories, art serves to elevate daily life. This collection's immersive recreation of ancient Chinese grandeur will expand your appreciation of traditional beauty into the modern era.
When long-forgotten craftsmanship, textiles and designs are reawakened through living culture, they become renewed through relevance. Passed inherently from past to present, creative spirit never fades. We invite you to experience the continuity of Chinese culture through these antique yet avant-garde Dunhuang style hanfu gowns.