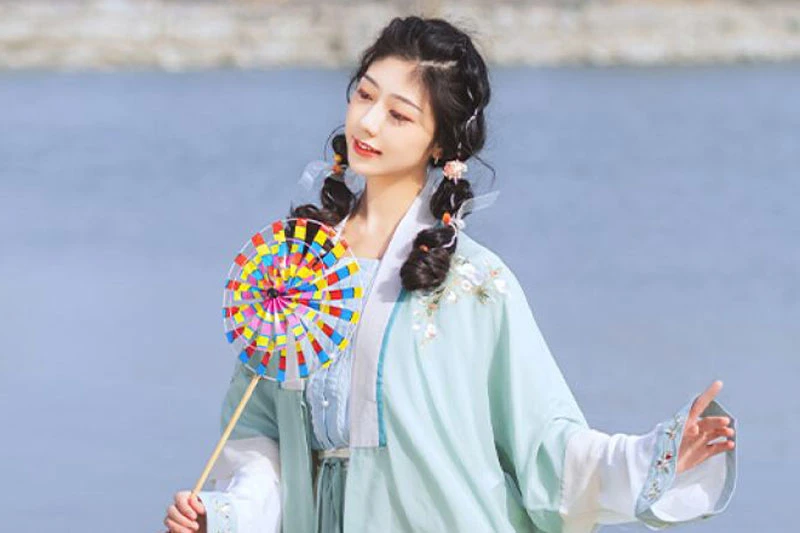 Urban Chic Street Hanfu Dresses
Each Newhanfu piece in this lineup perfectly blends retro Chinese flair with sleek, minimalist silhouettes perfect for confident, fast-paced city living. With versatile designs, luxe fabrics, and head-turning details, our urban hanfu dresses let you celebrate your Chinese heritage in modern style.
Our rebellious reinventions of hanfu retain the gorgeous drama of the Chinese imperial style while clashing with the current urban edge. These disruptive cultural creations are designed for fearless individualists and pioneers.
Whether you're hitting the streets, clubs, or scene parties, our street hanfu collection empowers you to own way. Inspired by the past yet completely of the moment, this radical cultural streetwear lets you shake up perceptions and leave conformity in the dust.
Retro Details Meet Minimalist Tailoring
These retro dresses may be mini in length but they're maximized with retro Chinese accents. Mandarin collars, frog closures, piping trim and side slits nod to quintessential hanfu style cues.
We build upon those timeless details with streamlined silhouettes using clean lines and structured, architectural tailoring. Crisp fabrics like linen, brocade and silk in muted palettes reinforce the minimalist aesthetics.
The resulting looks capture the essence of historical Chinese style while feeling entirely fresh and contemporary. It's the best of both eras in one dress!
Luxe Hanfu Fabrics and Textures
Expect only the finest fabrics gracing these modern hanfu designs. Fil coupe silk, brocade, linen, crepe and satin…each textile was carefully selected for its luxe feel, fluid drape and versatility.
Smooth satins and crepes contrast beautifully with textural linens, adding depth. Metallic-threaded brocade ups the opulence. And fil coupe silk makes a seriously sophisticated statement.
These indulgent fabrics effortlessly take you from professional settings to cocktail hours in utter comfort. Timeless quality shines through in each urban-chic piece.
Playful Mashups and Reinventions
We're reinventing hanfu style staples in playful, innovative ways for the 21st century. These modern Chinese dresses bring together contrasting eras and aesthetics for bold mashups.
Crisp poplin shirts with mandarin collars get remixed as flirty mini dresses or edgy jumpsuits. Traditional frog closures and piping amp up tailored pantsuits with retro personality.
Winding floral jacquard meets streamlined satin hanfu, then gets diced up into two-piece skirt sets. The juxtapositions make familiar elements feel fresh again.
Subtle Chinese Inspirations
Not every reference needs to be literal. Subtle hanfu inspirations discreetly infuse these minimalist silhouettes with a whisper of Chinese essence.
Asymmetrical hems styled after tangent suits gracefully sway with each step. Sharp standing collars offer a modern take on traditional necklines.
Dot and floral embroidery in auspicious patterns flow along clean-cut dresses. Chinese double happiness symbols shine in metallic brocades.
These nuanced details make chic cultural statements without being overly thematic. The Chinese influences shine brighter for their sparing use.
Anywhere Versatility
Whether you're striding into a business meeting or meeting friends downtown for cocktails, you'll feel effortlessly chic in these pieces.
Their fuss-free silhouettes easily transition from day to night, workweek to weekend. Just switch up styling and accessories to take the urban hanfu dresses from professional polish to party-ready glam.
Made to mix, match and remixed, the street style hanfu encourages creative styling. Contrasting or coordinating pieces can be dressed up or down for any occasion.
With their standout yet easygoing style, these versatile hanfu dress collections are your perfect partner for hustling across today's fast-paced cities in fashionable form.
We're reviving Hanfu's aesthetic beauty in thoroughly modern looks. Our urban designers intricately reconstruct Ming dynasty styles with a punk rock edge, adding slashes, knots, chains, and cheeky cuts.
The result is hanfu fashion crossed with badass streetwear vibes – a cultural mashup that empowers fearless individual style. Wearing these garments lets you channel ancient Chinese royal courts while strutting confidently around concrete jungles.
Blending tradition with edgy urban sensibilities, our street hanfu collection delivers fierce cultural style perfect for cosmopolitan fashionistas.
This rad hanfu collection lets you break out of fashion norms and define your own cultural identity. Boldly go where no hanfu has gone before in these statement streetwear pieces!