Received a message last week asking what the best wuxia cosplay hanfu attire of the year was and how to start a hanfu cosplay.
Wow, time is flying by before you know it, we've reached the last season of 2020. That's right, it's time to take a look at this year's new hanfu cosplay costumes and which will be the most popular design themes. Keep scrolling to get a glimpse of them all.
Top 10 Popular Cosplay Hanfu Clothing in 2022
Trying trendy hanfu characters is not always the bad thing to do, so I will now present you 10 most popular hanfu Cosplay Costumes that worth a try this year.
1. Hua Mulan
Mulan is always hot for these years. Out of 10 hanfu cosplayers, 2 of them will ask for Mulan costumes.
Anyway, the success of two Disney Mulan movie (animated and live-action versions) makes the Mulan cosplay costume a great derivative. When you dress in her hanfu costume with a sword, it's all possible to imagine yourself being this courageous and handsome heroine.
2. Kylin Hanfu
As we all know, the Kylin series hanfu cosplay costume is top-rated over the years. When you wear the Kylin cosplay costume for the Spring Festival, the lucky will be with you.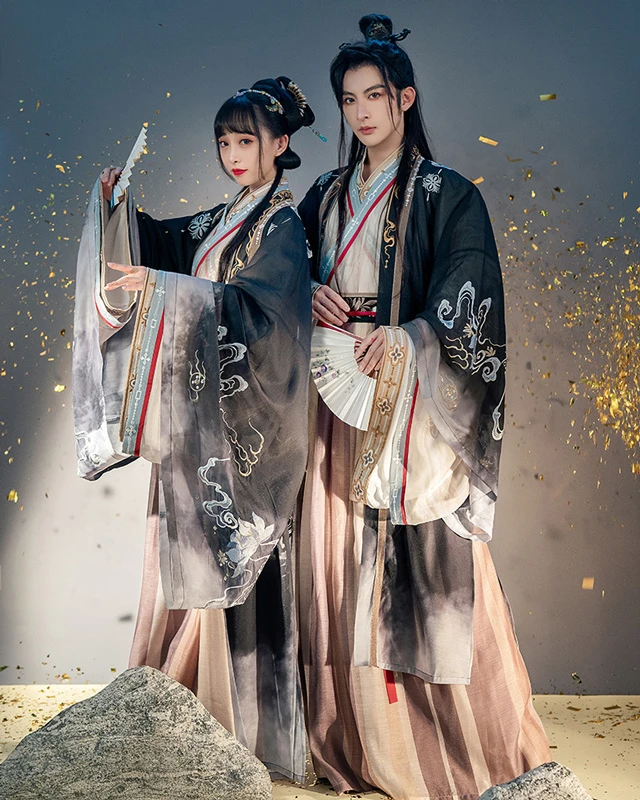 Kylin is by far one of the most famous beasts in China's traditional myth, and a pretty great choice if you decide to cosplay from the ancient totems.
3. Dunhuang Flying Goddess
Dunhuang mural painting is excellent for providing an optimistic vision of our future, it reminds us that no matter how crazy the world look like today, it will get better, and we will get better. There will be a best time in which everyone can be as happy as the immortals.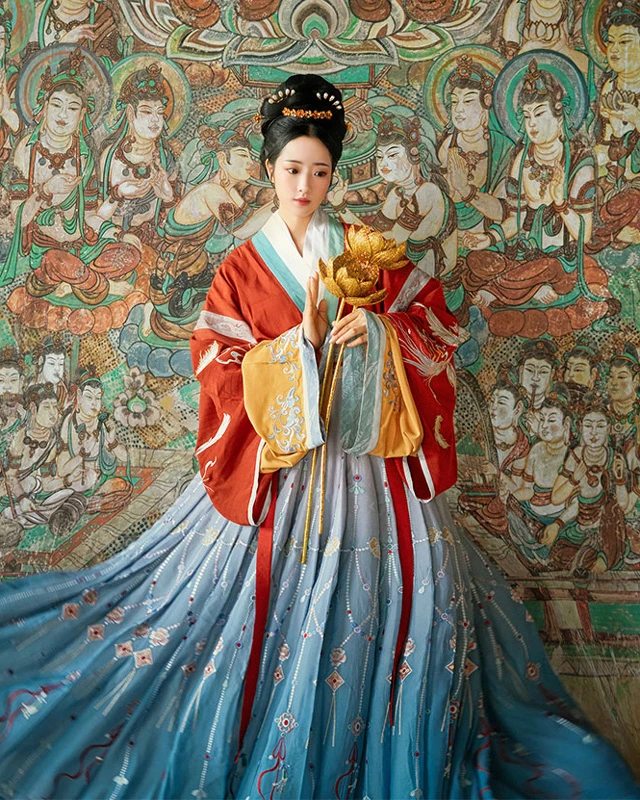 People choose Flying Goddess and still seak for beautifulness. The fairy girl on the picture dressed in a classic Tang hanfu dress, expressing elegance and peace.
4. The Outcast Cosplay
We've all waited more than two years for The Outcast 3 to come out finally. Believe me, when I say, there's a significant number of TO fans out there.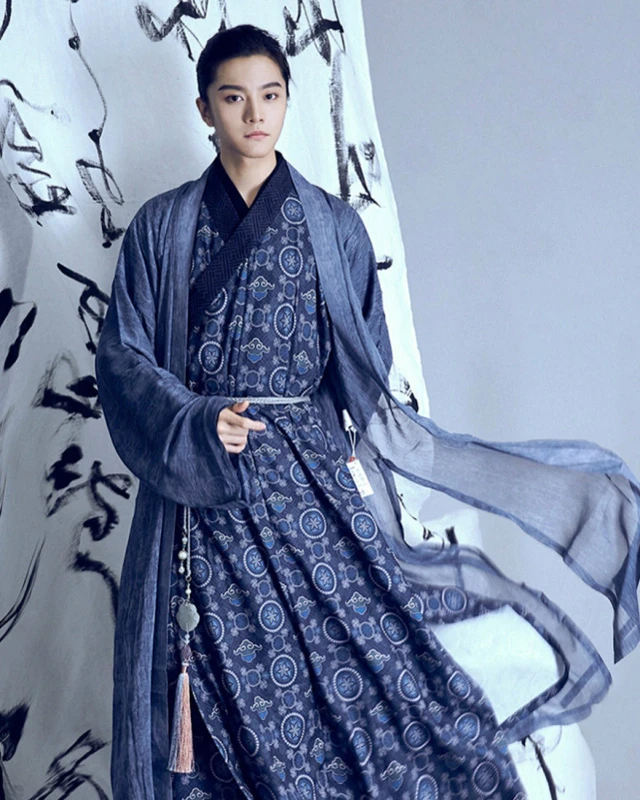 We'll definitely see the classic cosplays like Wangye and Zhuge. But with new characters coming out in the long-awaited sequel, we're going to see a bunch of new cosplays from the series. And I personally am looking forward to it because we love this New Generation anime!
5. Journey to the West Game
This is one of the most popular hanfu cosplay topics in China. Why? Because the game is easy to learn, the characters are exciting, and the cartoon scene keeps it entertaining.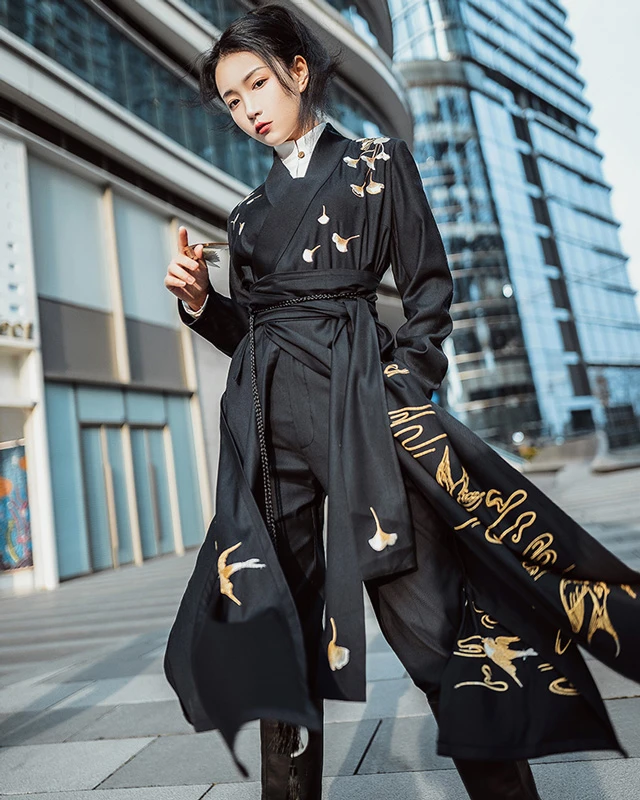 There are lots of cool-looking characters; I guess you've already seen a bunch of them at various hanfu conventions. If you're looking for one easy to start, Longma and Nezha are good choices. If you want to cosplay someone more challenging, then have a try characters like Er Lang Shen and Monkey King.
With Tencent and Netease releasing more skins and updates in Arena Of Valor and Fantasy Westward Journey, this hanfu cosplay ideas will continue to populate in 2021.
If I have to choose one specific style and color hanfu to call it classic, it must be the Red hanfu wedding.
When it comes to choosing a traditional hanfu costume, loyal Hanfu fans do not settle for vintage hanfu patterns. Many popular hanfu costumes are inferior ruqun style copies, but a real wedding hanfu outfit has a lot more thought in it.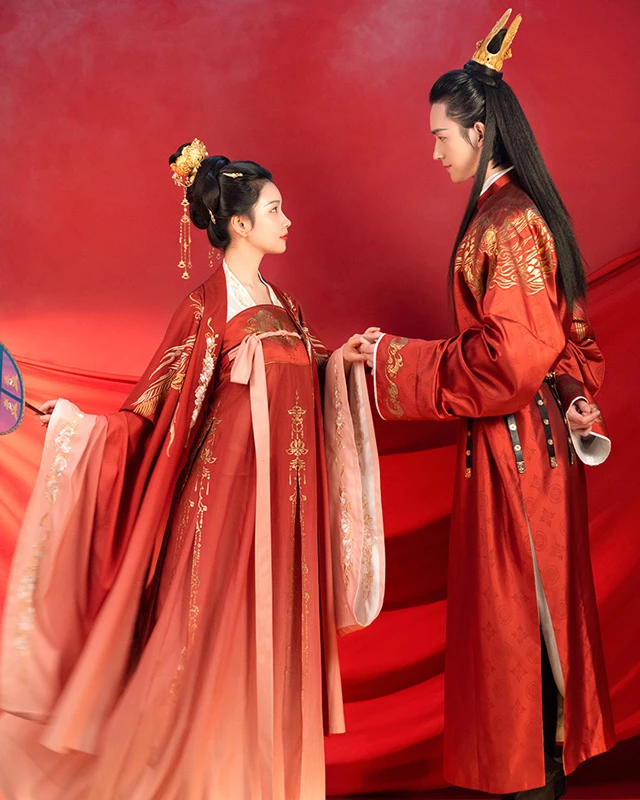 Details such as embroidery patterns webbing in all the right places and contours in all the right places make a hanfu wedding costume replica look like the real ancient East wedding ceremony. About the color, red will give you a great shot at a "best costume" award at your local hanfu festival convention or hanfu cosplay party.
7. Wuxia Couple
Can't get enough of Wuxia World? You can check out their couple costumes then.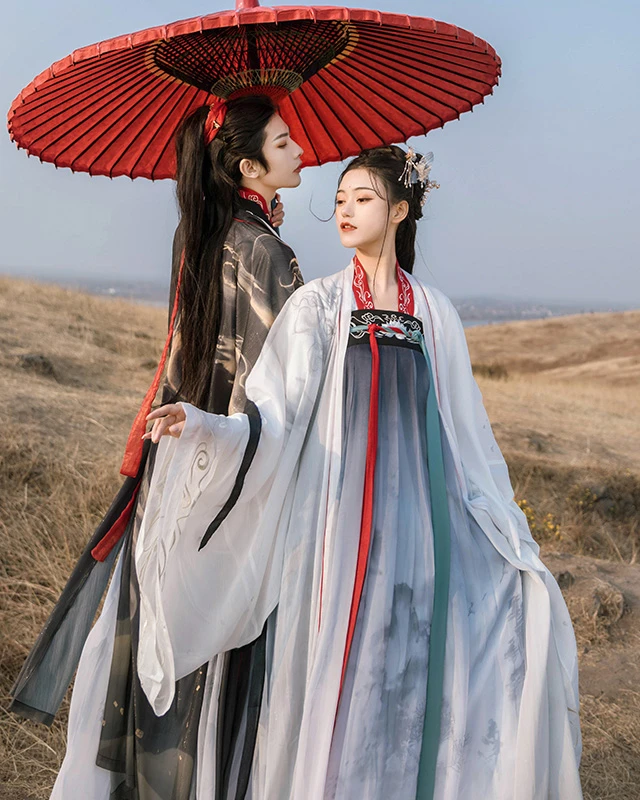 Rock in this high-end of Martial Arts outfit, featuring a form-fitting black white robe with delicate embroidery totems straps. The landscape printing pleated skirt edged with floral patterns comes with gold silver hanfu hairpins and hanfu shoes. Complete your wuxia look with wigs; you are the swordsman master out of the movie.
8. Guqin Master
Decorated with these chiffons and retro patterns, the costume of the Heaven Sound Meeting looks fancy. The whole light blue and white style makes it a little bit creepy, but that's exactly what you need if you are interested in a hanfu costume like that. Choosing this makes you the unique existence at any hanfu party you attend.
Put on this suit, you're gonna look so cold, no naughty child would dare to bother you so that it would save some trouble for you indeed.
9. New Loong Legend
White Loong is probably the most famous main character of all Loong Legend dramas. 2020 will be no exception for cosplay ideas.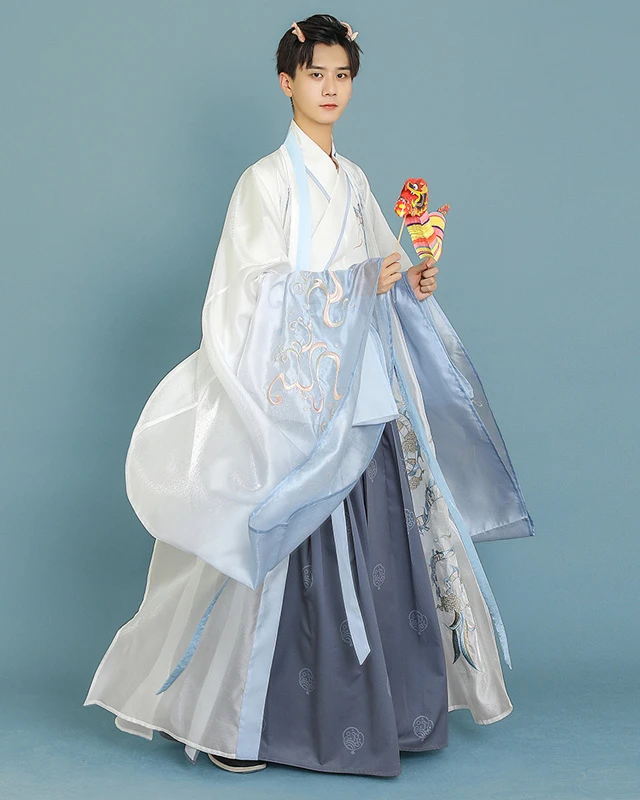 It was released way back in 2002. But with the first episode of the remake on the horizon, the series is bound to be popular in the cosplay world. Both with longtime fans as well as young audiences who will be introduced to this classic Chinese dramas, if some characters receive a new makeover because of the remake, then that will definitely be something to show at the next hanfu show.
10. The Legend of Sword and Fairy
SF has a whole cast of memorable characters, including Linger! One of the most memorable xianxia dramas in 2009, SF was all the rage a few years ago. At hanfu cosplay conventions, there were tons of top-level cosplayers dressing up from the series. Although you only see few cosplays from it in 2020, a brand new season will be released soon, so I feel we'll see a resurgence of Xianjian cosplays!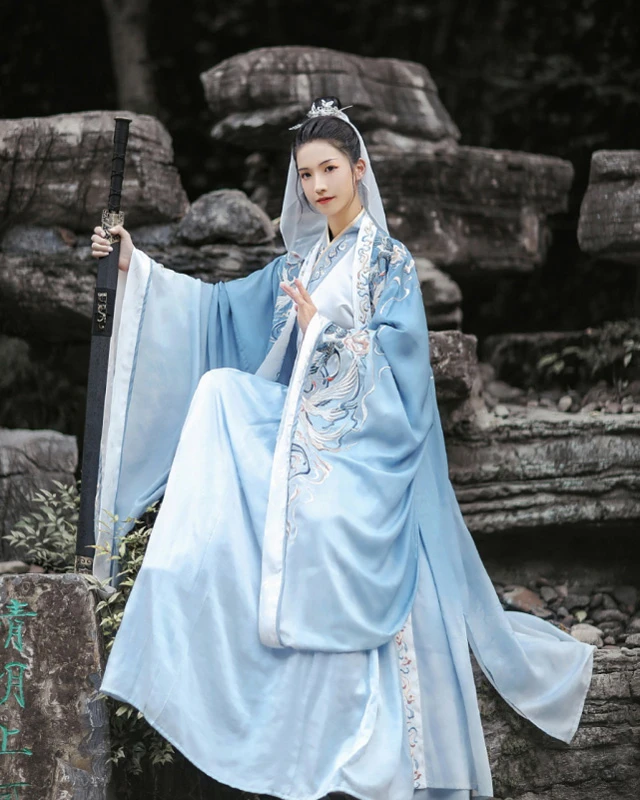 The legend of sword and fairy has so many memorable characters that you have lots to choose from, including Xiaoyao, Yueru, and Jianxian.
Every year, the hanfu festival in November and December attracts millions of passionate fans, film celebs, and creatives for long pop-culture insanity. What must be acknowledged is that we're still shaking from all the incredible hanfu cosplay we witnessed in 2021.
And while we obviously anticipated some cool times from all those blockbuster trailers and catwalk show. The wildly imaginative and talented hanfu cosplayers who flooded the city were our favorite part of the annual event.
This year, our minds were blown by another round of jaw-dropping costumes that bring our favorite anime, game, and dramas characters from the big and small screen to life. These pictures from Annual Hanfu 2022 need to be seen to be believed — they're that good!
Before 2022 officially ends, you should do something – have a Hanfu cosplay party with your friends instead of leaving a regret! So what are you waiting for? It's time to pick a hanfu cosplay costume.