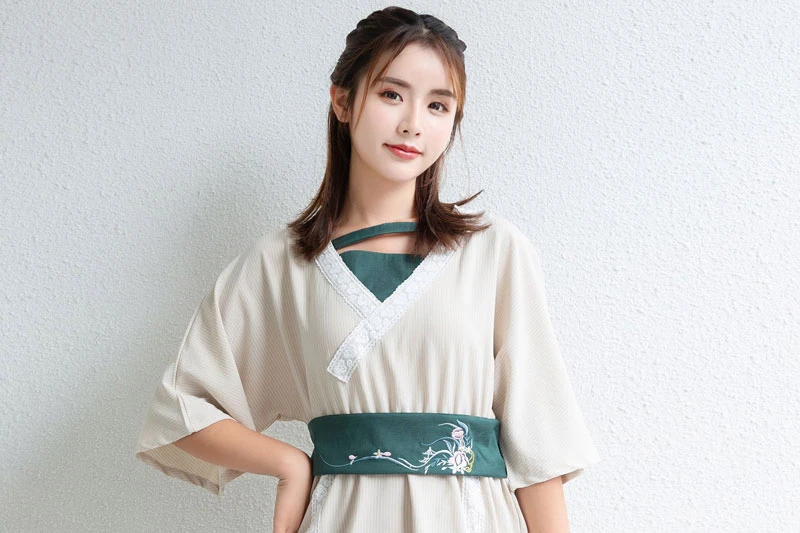 We're taking the elegant essence of traditional Chinese hanfu fashion and infusing it with modern versatility for today's free-spirited women.
These flirty short styles offer a fresh perspective on hanfu, optimized for confidence and comfort whether you're at school, work or play. The details nod to China's sartorial traditions while the lengths keep up with your busy lifestyle. This fusion of old and new encapsulates the endless creativity of Chinese style.
Expect thigh-skimming, leg-flaunting hemlines that capture youthful spirit. Crisp pleated miniskirts sway right above the knee—perfect to show off your best heels or sneakers. The curve-kissing silhouettes playfully modernize the traditionally modest short hanfu.
Strap details allow adjustable lengths so you can customize coverage from demure to daring. However you style them, these mini styles propel hanfu into the future of fashion.
Clever Reimaginings of Classics
Our designs remix time-honored hanfu garments and details in inventive ways for short, flirty styles made for movement. Traditional Changshan tops become crop tops or bandeaus paired with high-waisted skirts. Mandarin collars and frog closures trim fresh minidresses.
Crossover lapels usually fastening gowns are now wrapped across tailored minis. Cinched waistcoats contrast billowing pleated skirts. Reconfiguring classics makes short hanfu flexible and fun.
Modern Fabrics, Traditional Techniques
To construct these contemporary pieces, we honor heirloom Chinese techniques while using innovative fabrics. Master hanfu tailors hand-stitch delicate silk charmeuse and chiffon into shapely dresses with artful attention to detail. Heat-set pleating lends volume to skirts in featherweight poly fabrics—perfect for the girl on the go. The traditional Chinese aesthetic shines through modern textile technology.
Lustrous brocades are laser cut into bold geometric patterns, then carefully pieced together and hand-finished. Traditional embroidery depictions transform through computerized craft into trendy holographic prints.
By blending cherished Chinese techniques with current material innovations, our pieces bridge heritage with vanguard style.
Playful Prints and Colors
Unlike the formal dark hues of traditional hanfu, our mini styles flaunt a fun palette of vivid pastels, intense jewel tones and eclectic prints.
Whimsical peach blossom prints evoke the optimism of spring. Dreamy watercolor floral patterns flow across ethereal fabrics fit for fairy maidens.
Graceful cranes soar across skirts in auspicious patterns passed down through generations. Abstract batik dye motifs symbolize blessings for lightness and joy.
From fierce dragon prints to lucky clouds and phoenixes, traditional iconography gets reworked in graphic color-blocked designs. The playful prints infuse modern vibrance into timeless Chinese motifs.
China-Chic Fashion for Every Day
Our collection offers the best of both eras—traditional Chinese design sensibilities with contemporary functionality. Mini skirts and dresses fit sleekly into your 9-to-5 routine, then transition flawlessly to nights out with just a quick accessory change.
With true design innovation, these pieces celebrate your Chinese heritage and femininity in youthful style perfect for your fast-paced life. The clothes open unlimited possibilities to confidently experience Chinese cultural identity. Bring the mini hanfu revolution into your everyday style!