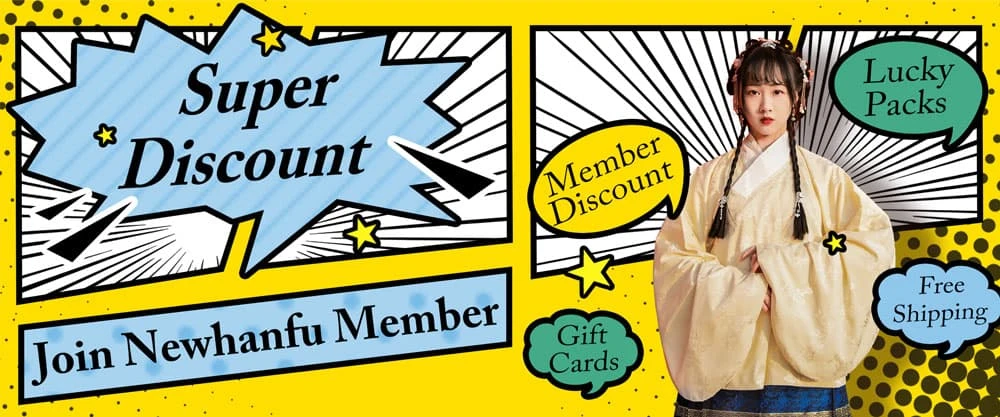 Whether you are a man or a woman, if you are looking for one of the most authentic hanfu styles, a waist Qiyao ruqun would be the best choice. Qiyao ruqun patterns are a perfect addition to any fashion wardrobe, offering a nostalgic way to update your look. These qiyao ruqun patterns provide a retro feel that goes perfectly with the season and can be paired with a variety of tops to create a complete hanfu outfit. Besides that, there are two popular types of ruqun for women, the tan ling ruqun and chest ruqun is an essential dress in the closet of almost all hanfu girls.
Also, if you are a martial arts fan, a Qiyao ruqun hanfu is also the best cosplay costume; wearing a ruqun costume, you are the cool swordsman and kungfu master of the wuxia world. Don't know how to wear a ruqun outfit? Don't worry, classic ruqun clothing is super easy to wear, just wrap it on your waist and use the skirt's straps to tie.
Jiaoling Ruqun Clothing
Jiaoling ruqun clothing, or cross collar hanfu shirt and skirt, is one of the most popular hanfu sets for men and women. With its timeless look, this jiaoling ruqun hanfu pairs well with everything from a hanfu t-shirt and jacket to blouses and pumps for the perfect everyday-casual outfit. Wear this vintage-style jiaoling ruqun for the next adventure, or simply to keep things fresh with a pair of sneakers and a backpack. This classic jiaoling ruqun pattern makes the perfect gift for the woman in your life. Appreciate the retro touch and it will come in handy for a number of occasions.
Tanling Ruqun Clothing
Tanling, tan collar ruqun clothing, or open collar ruqun hanfu is a classic hanfu style from the Tang Dynasty. With its clean lines and soft, comfortable fabric, this classic Tang dynasty ruqun hanfu item is the ultimate transitional piece – it's always on trend, but never out of place. Wear this classic ruqun skirt to a daytime event or a night out, or pair it with a white hanfu t-shirt and casual flats for a day at the office.
Fashion Ruqun
If you don't the vintage Tang dynasty ruqun, there are many modern ruqun with chic designs. Either way, a fashion ruqun is a wonderful choice for any occasion. This season's trends are for bold patterns, quirky graphics, and a little bit of fun, so why not celebrate the retro trend with a fashion print ruqun clothing? You'll love the versatility and easy-to-wear styles of ruqun hanfu in this season's collection.
The best thing about fashion ruqun is its versatility. You can pair ruqun skirt with a solid-colored blouse, a printed top, or even an oversized sweater. This cute ruqun design comes in free size and will fit very well for every girl, and you can also pair it with a black crop top and sneakers for an urban-chic look. Or, you can pair qiyao ruqun shirt with a cropped jacket and boots for a more polished look. No matter how you style it, you'll always look effortlessly cool while rocking this retro fashion ruqun hanfu.