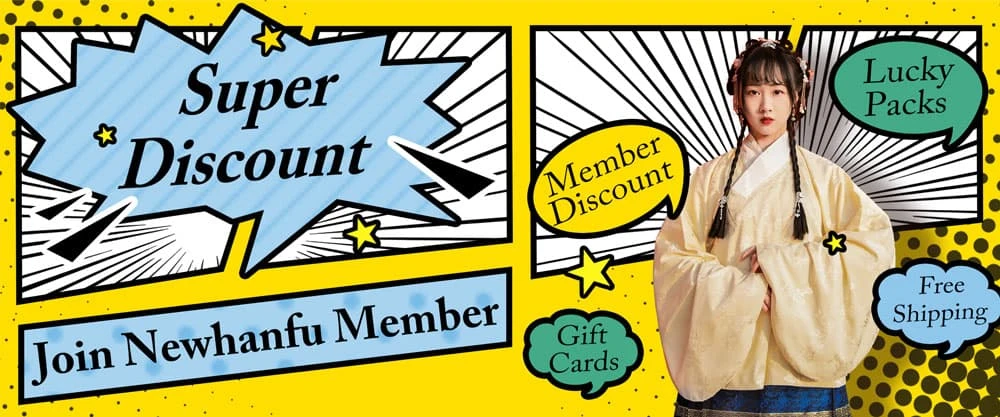 The hanfu world is constantly changing and evolving, and when it comes to women's hanfu style, there is always something new to try. You can always easy to find a beautiful Hanfu outfit that suits your aesthetic.
Women's hanfu is one of the most popular dress styles in the fashion market. It's no surprise, since it's easy to find women's hanfu dresses online, including casual, formal, party, and bridal hanfu dresses. Women's hanfu clothing comes in all shapes, sizes, colors, and styles. So it can be difficult to know where to start.
How to choose a female hanfu that is best for you?
First, think about where you would wear this hanfu dress? If for cosplay fun, wuxia style ruqun is a good choice; if you need a casual style, modern hanfu is the best; and if you are going to a wedding, then you can have a look at Ming Dynasty hanfu style, you will not be disappointed!
As for the color, it is fine according to your usual preference; if there is no special taboo, choosing 2 or 3 kinds of colors mix hanfu clothing is a great choice.
Plus, they come in a variety of patterns, from a full rainbow of cropped versions with trendy motifs to modern hanfu with painterly patterns. You won't be disappointed by these top-selling styles, it can be casual wear or as a stunning dress for a wedding.
Traditional Chinese Hanfu for Women
There is a lot of debate about the appropriateness of wearing the traditional Chinese dress for modern women. A woman's wardrobe should reflect her personality. That's why many women opt for a mix of both traditional and modern styles.
Traditional hanfu clothing is the most classic and elegant style of dress that's still a favorite among many women today. It has a simple, yet classy and luxury design. And this style is very suitable for the modern era. Women can wear it in any occasion, such as wedding, party, and date.
Women's Fashion Hanfu Dress
From high-end to casual hanfu, there are so many different styles and trends available to choose from. But, as the old saying goes, "if you look good, you feel good, and if you feel good, you perform better." So, when it comes to your appearance, how do you want to be perceived? Are you going to look like a stylish, modern woman, or are you going to dress like a retro-style woman?
While the traditional "ladylike" dress is a timeless classic, it's not too hard to find a fashionable and affordable hanfu dress that fits today's modern woman. Take a look at the modern hanfu, the best of both worlds: the fashion and street style hanfu, as well as a few other accessory options that will help you get dressed in style for less.