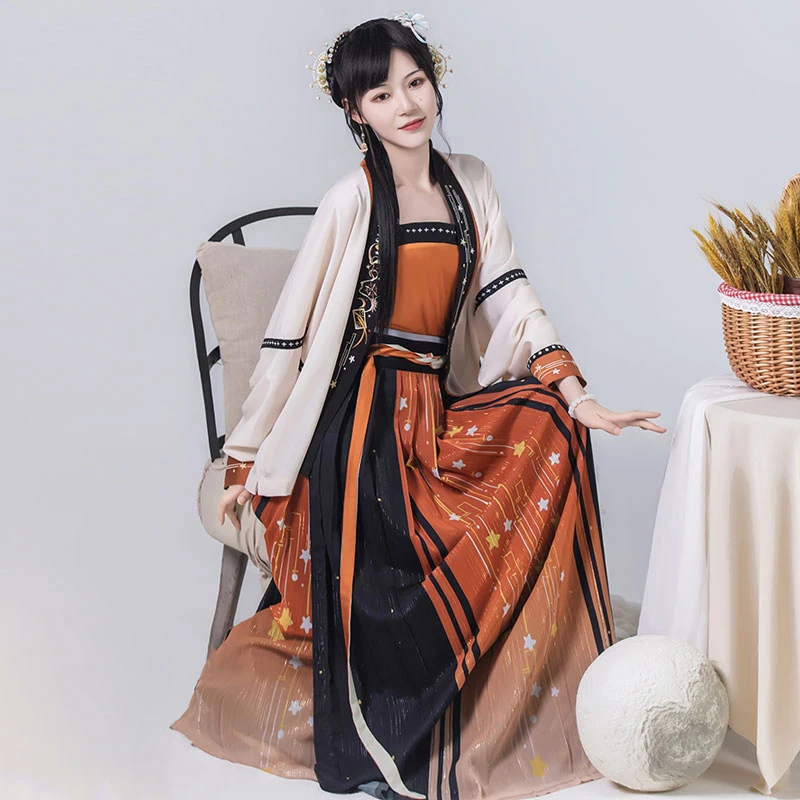 [cg_accordion title="Items & Feature"]
Fashion style hanfu set inspired by traditional Song dynasty spring and summer dress. In modern design, the elastic camisole gives so much extra stretch to fit the most bust. The wrap hanfu qun skirt perfectly accentuates your waist to show off your curves! And the adjustable strap could make you feel breathable and comfortable all day!
Item Includes: 3-Piece Set / 1x camisole, 1x shirt, 1x wrap skirt
Please note that the items do not include the accessories and jewelry shown in the model picture, such as hair bands, hair clips, necklaces, fans, belts, etc.
[/cg_accordion] [cg_accordion title="Size Guide"]
Measurement of the clothes (S/M/L):
Camisole Chest: 92/96/100CM
Shirt Length: 58/60/62CM
Skirt Waist: 102/106/110CM
Skirt Length: 101/105/109CM
To fit Height: 160/165/170CM
*Note: The unit is CM, 1 inch = 2.54 cm; Please make sure the product's measurements will fit your daily wear size, or view the complete Size Guide Chart to get more help.
[/cg_accordion] [cg_accordion title="Fabric & Wash"]
Material: 95% Polyester, 5% Spandex
Recommend Hand-wash with your favorite mild detergent; Cold or warm water, maximum temperature 40°C. When washed, shake off any excess water and let them air dry. (Alternate: washing machine – put clothes into a soft mesh wash bag and run with gentle cycle).
[/cg_accordion] [cg_accordion title="Shipping & Return"]
Shipping: Once the package is in transit, you will receive an email notification of the shipping status and location, also you can directly Track Shipping online.
Guarantee: If the item has any small and big quality issues, we will offer free return or refund for you. Learn more about the Return & Refund Policy.
[/cg_accordion]