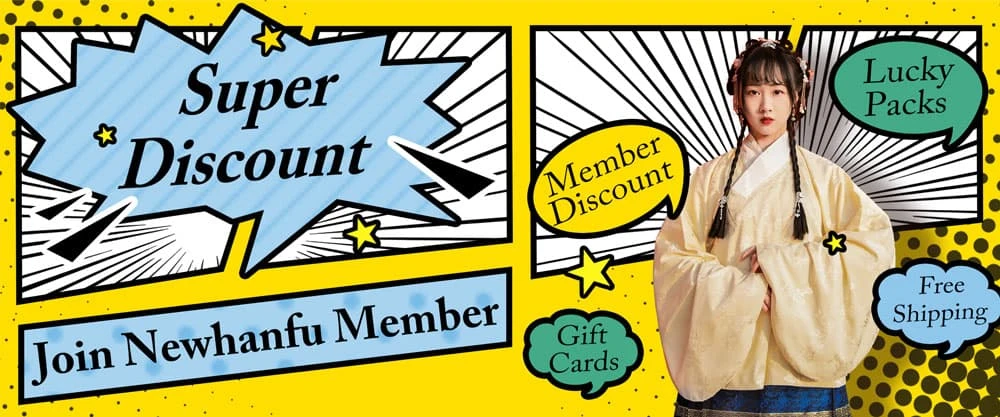 Currently, homemade hanfu jewelry is particularly popular among the hanfu hobbyist groups. Especially for girls who usually like to DIY, it is a great job and happy day to make unique jewelry or accessory (e.g. a hanfu style hairpin) of your own. Also, a 100% full handmade hanfu jewelry can usually be auctioned online for at least hundreds of dollars.
There are many benefits to wearing ancient hanfu jewelry, including having fun, expressing your personality, and learning more about history. And, you can express yourself by wearing retro jewelry.
You can find retro hanfu jewelry at your local department store or online retailer. But if you're looking for the best prices, it's time to look into the world of Newhanfu. Vintage hanfu jewelry is a popular style among women, and Newhanfu has a huge selection of different traditional jewelry styles, from classic pieces to fashion pieces.
Hanfu Jewelry Tips
There's no better way to add a little glamour to your jewelry box than by adding some retro hanfu jewelry. If you're interested in buying hanfu jewelry, then you're in the right place. Here are a few tips that will help you find the perfect pieces that will look great on you.
Step 1: Choose the right color
You can wear a variety of colors, but the most popular colors are gold, silver, black, red, blue, brown, and white. Gold color is the most popular color for hanfu jewelry because it goes with everything.
Step 2: Choose the right style
There are many different types of hanfu jewelry that can be worn with a traditional hanfu dress. The most popular styles include bracelets, necklaces, earrings, rings, watches, and headbands.
Step 3: Choose the right material
You can wear alloy, metal, pearl, gemstone or plastic. Gold & silver jewelry is more expensive than alloy or plastic, so if you have a limited budget, you should consider choosing a handmade alloy hairpin and necklace.
Step 4: Match your hanfu dress
Matching your jewelry to your hanfu clothing is important. You want to make sure that your jewelry are consistent with your outfit. If you're wearing a black hanfu robe, you shouldn't wear a dark color necklace. Also, if you're wearing a bright hanfu jacket, you can wear a neutral colored earrings.
Step 5: Determine your price range
This is the last thing you need to do. Decide what kind of budget you have and what price range you want to stick to. Some handmade hanfu hairpins are made of alloys, pearls, and gemstones, which are a great choice as they are very beautiful and friendly in price.
Nowadays, you can easily find a large selection of hanfu jewelry and many more beautiful hanfu accessories items online. However, it is a very interesting experience as it's very fun to find unique pieces that have been worn by previous generations.